BUY TWO CBD SOAPS AND YOUR THIRD IS FREE!
Just add three of any soaps to your cart and one will be free!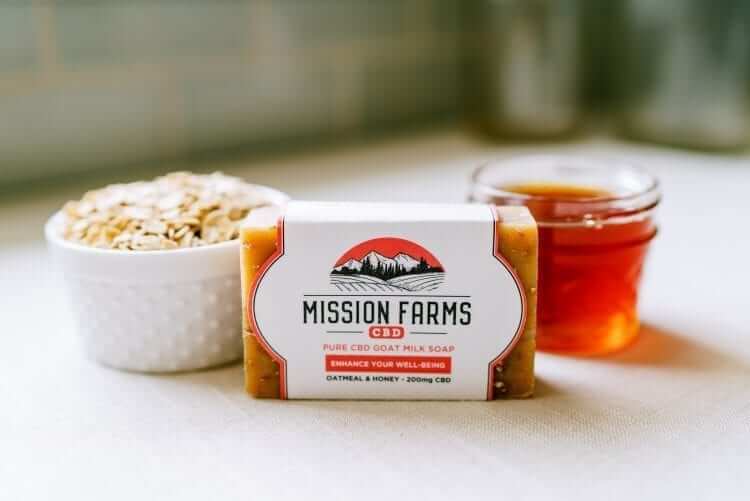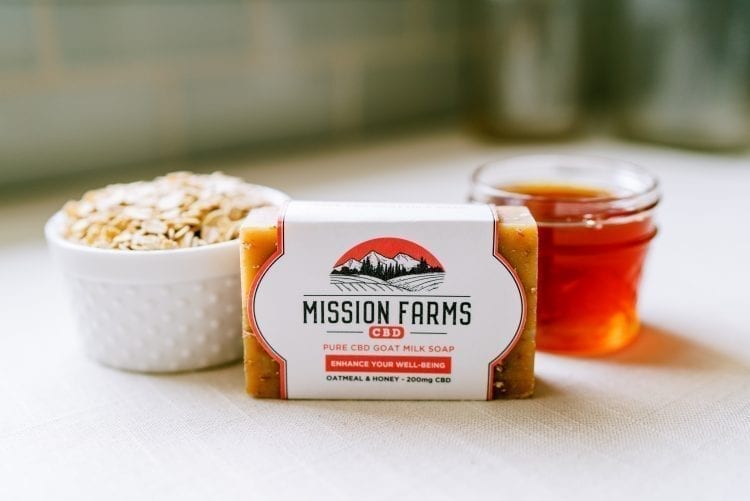 Your Skin Will Love Our CBD Soap
At Mission Farms, we have combined our premium, full-spectrum CBD with other essential oils and terpenes to magnify the powerful healing effects of CBD, such as reduced inflammation. CBD is an all-natural, organic compound that interacts with receptors throughout your body to reduce discomfort levels, calm your stress, and improve your overall well-being.
In addition to CBD, our 4.5 ounce goat milk soaps boast the healing properties of goat milk, such as healing dry and irritated skin. This all makes your bathing experience like visiting the spa. Go on… you deserve it!
Healing Properties of Goat Milk
Our goat milk comes from a family farm outside of Bend, Oregon, where Mission Farms is located. Our soaps are over 25% fresh goat milk. Here's why that helps you:
Goat milk is very high in MCT (medium chain triglycerides). CBD bonds well to MCT, and MCT is absorbed quickly by your skin. This ensures that the CBD is delivered to your tense muscles as efficiently as possible.
Goat milk also has specific enzymes that reduce problem dry skin from irritated skin, psoriasis, and flakiness. Your skin absorbs goat milk so well that it receives intense hydration while you bathe, in addition to filling your body with vitamins A, D, E, and K.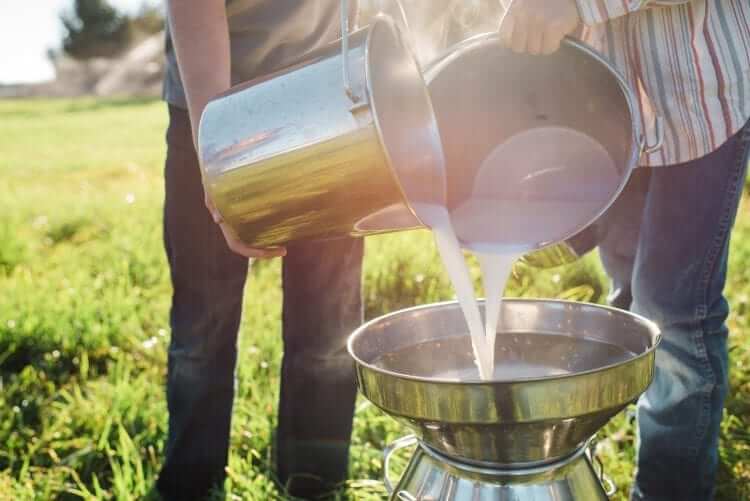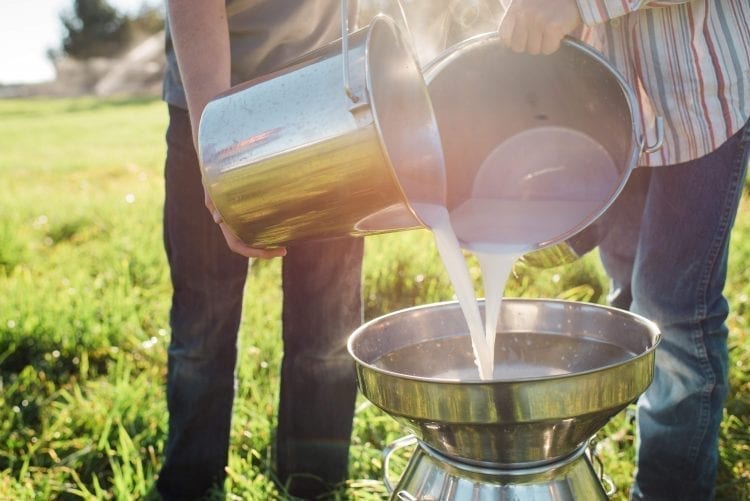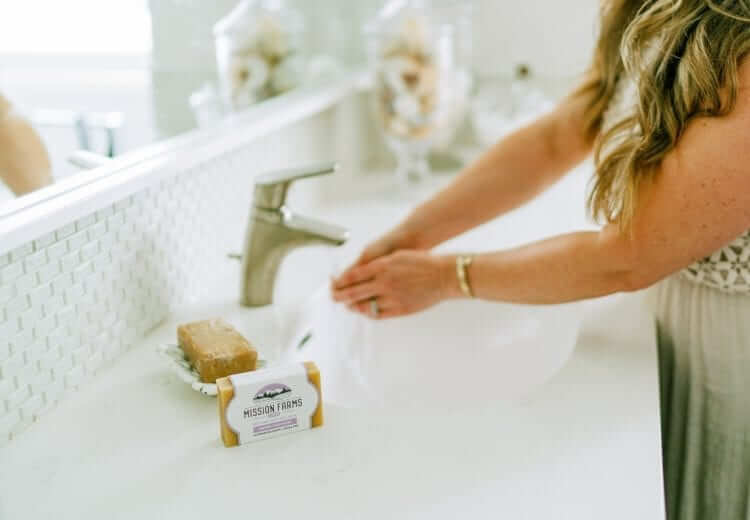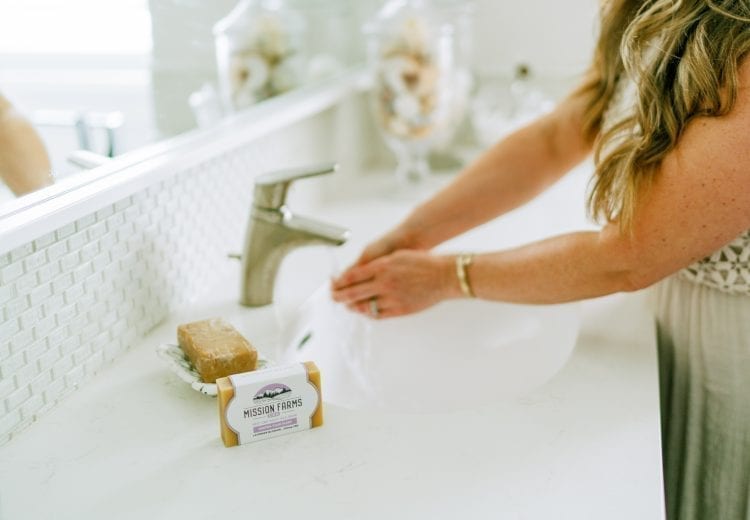 CBD Soap Crafted for Specific Needs
As always, we at Mission Farms craft our products to treat your specific health conditions. Each 4.5 ounce CBD Goat Milk Soap has additional essential oils that magnify the effect of the CBD so you feel good again. We have four luxurious varieties of our CBD Goat Milk Soaps.
REST CBD SOAP is a restful Lavender Blossom.
RELAX CBD SOAP is a calming Honey Grapefruit.
RELIEVE CBD SOAP is a inflammation-reducing Spearmint Eucalyptus.
PURE CBD SOAP is a Honey & Oatmeal blend for for extra-sensitive skin.
All-Natural, All the Time
Your skin is your body's largest organ. What goes on your skin goes in your body.
Our CBD Goat Milk Soaps are all-natural, chemical-free, and full of natural cleansing properties. You won't find damaging additives, or irritating fillers.  You treat your body right when you choose our Mission Farms CBD Soaps.
What's in our CBD Goat Milk Soaps?
Fresh, Raw Goat's Milk: Naturally exfoliates and supports healthy skin renewal
Coconut Oil: Extremely moisturizing and skin softening
Olive Oil: Loaded with the vitamins your skin craves
Palm Oil: Antioxidants combat and reverse harmful UV skin damage
Whole Hemp Extract: Premium, full-spectrum CBD straight from our farms
Essential Oils: To target healing for specific conditions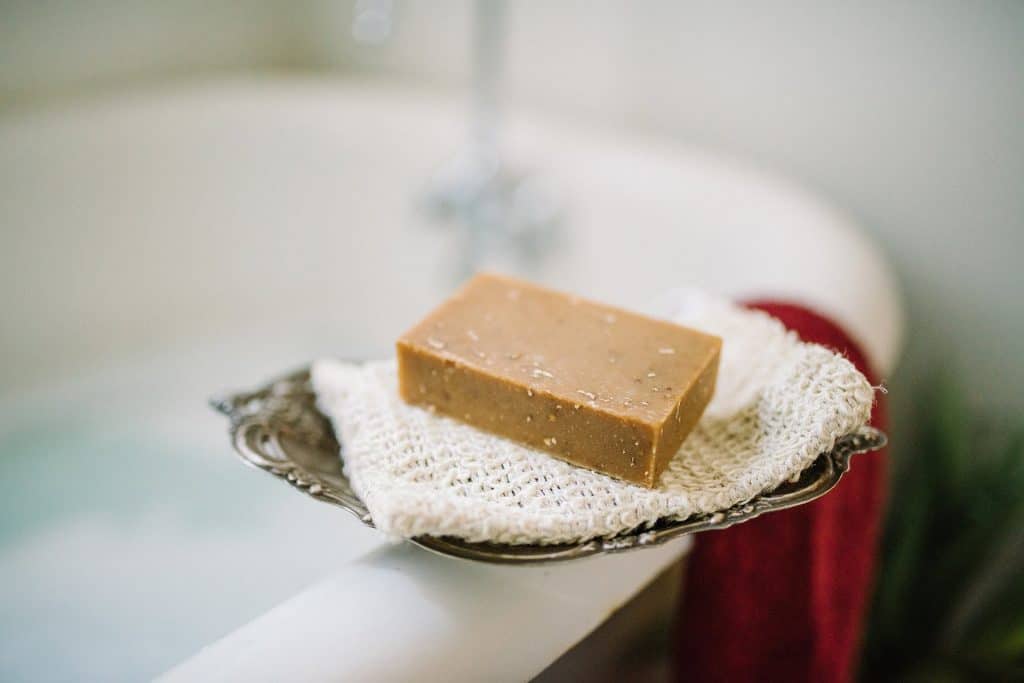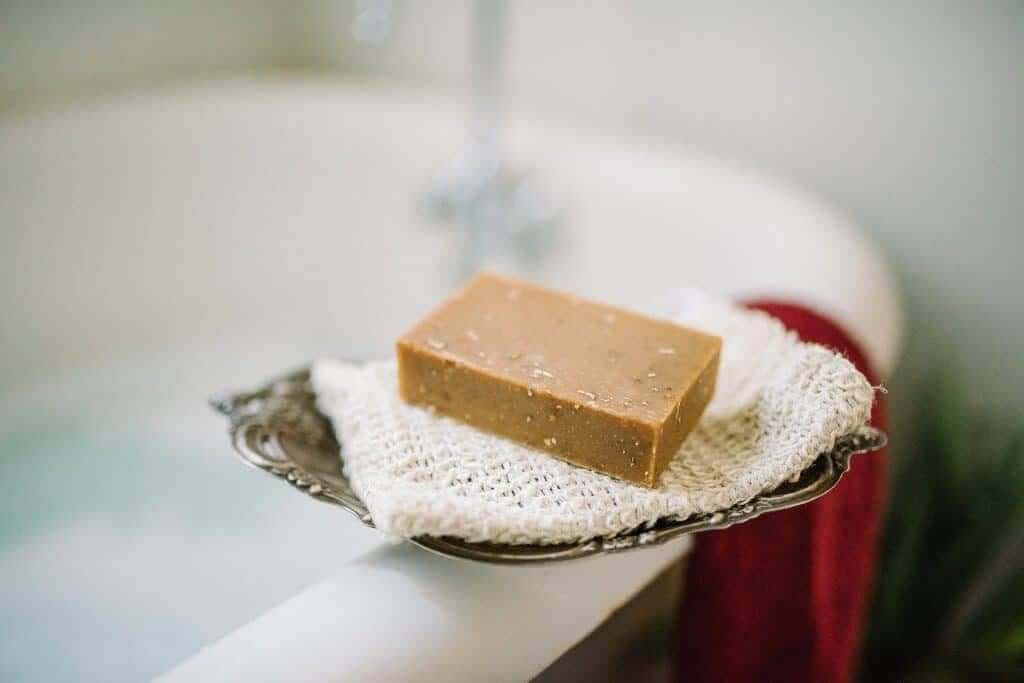 CBD SOAP BENEFITS FOR YOUR SKIN
Experts in skin care are discovering the many benefits of CBD for healthy, vibrant skin. CBD oil is a powerful antioxidant and anti-inflammatory. It is rich in omega-6 fatty acids that decrease inflammation and encourage the growth of new skin cells. For those who struggle with skin inflammation conditions like eczema and psoriasis, our CBD soap can be an all-natural source of relief. In addition to nourishing the skin, antioxidant properties of CBD oil soap also prevent free radicals from damaging the skin.
CBD oil soap also has anti-aging properties. It is rich with natural, gentle acids like linoleic and oleic which are known to reduce fine lines and wrinkles as well as prevent their development. Because we use both CBD and goat milk in our soap, you get the additional anti-aging benefits of alpha-hydroxy acid.
CBD soap benefits your skin with its antibacterial properties. One of the primary reasons we wash our hands (and bodies!) is to cleanse ourselves of harmful bacteria. CBD is a powerful antibacterial that has been proven to kill even the most harmful bacteria like MRSA and Staph. You can be confident that our soap with CBD oil will be gentle on your skin while being tough on dangerous bacteria.
Our CBD soaps contain more than just CBD. We use full spectrum CBD oil in all of our soaps which means you also get the benefits of other cannabinoids, terpenes, and nutrients. We extract this full spectrum CBD oil from the hemp plants grown organically on our farms in Bend Oregon. Many companies buy their CBD on the open market and it is difficult to trace its source. With Mission Farms CBD you have the confidence of knowing the CBD in our CBD Soap comes from our farms. Not only do we farm it organically, we test the soil, test the hemp, test the hemp extract, and then test the final products to ensure that our soap with CBD oil is pure and effective.
THE BENEFITS OF GOAT MILK FOR YOUR SKIN
Our CBD soaps all have the winning combination of CBD plus goat milk. Goat milk has many properties that are beneficial in a daily skin care routine.
Goat milk is rich in vitamins that your skin craves. The high concentration of Vitamin A treats age lines, acne, dry skin, eczema and psoriasis. Vitamin A is often added to skin care products because of its benefits, but it occurs naturally in our fresh goat milk. Vitamin D, Vitamin K, and Vitamin E are also highly concentrated in goat milk. These vitamins provide a skin-loving cocktail that deeply hydrates skin.
Goat milk is also rich in alpha-hydroxy acid. Again, many skin care products have this gentle acid as an added ingredient, but it exists naturally in goat milk. Alpha-hydroxy acid exfoliates skin, causing dead skin cells to wash away, revealing the new, vibrant skin below. Alpha-hydroxy acid is also known to promote collagen production, improve the appearance of wrinkles and scars, increase blood flow, and prevent acne breakouts.
Our goat milk soap is also rich in MCT oils. You may have noticed that most CBD tinctures are made with MCT oil. There is a reason: Medium Chain Triglycerides are the best carrier oil for CBD. They bond with the CBD and help it pass through the skin and the digestive system quickly and without being degraded. Goat milk is naturally high in MCT oils, and we add additional coconut oil with MCTs to ensure that the CBD in our soap is going to work for your benefit rather than just wash away.
USE OUR FULL SUITE OF CBD BATH PRODUCTS FOR BEST RESULTS
Caring for your skin is easy with our unique line of all-natural CBD skin care products. When used together, our CBD and Goat Milk skin care lines are even more effective.
For example, if you are hoping to sleep better while also pampering your skin, start a nightly routine that includes: washing with our Rest CBD Soap, bathing in our Rest CBD Soak, and then massaging our Rest CBD Cream into any places where you are carrying tension. And of course, our Rest CBD Oil is a winner for falling asleep and staying asleep.
If you are struggling with pain or inflammation, start a daily routine that includes: washing with our Relieve CBD Soap, soaking your whole body in a bath with our Relieve CBD Soak, and then massaging our Relieve CBD Cream into any spots that are especially sore.
If you are looking to relax at the end of the day a daily ritual that uses our Relax CBD products can help you wash the stresses of the day away. Wash with our Relax CBD Soap, take a hot bath with our Relax CBD Soak, and then massage our Relax CBD Cream into your neck, shoulders, and any other areas where you carry stress. We also recommend trying our CBD Mints as an easy way to reduce stress throughout the day.
If you have inflammatory skin issues like eczema or psoriasis, we have seen great results with customers who employ the following daily routine: wash with our Pure CBD Soap, bathe in our Pure CBD Soak, and then gently rub our Pure CBD Cream anywhere with irritation.
WHERE TO FIND CBD SOAP FOR SALE
There are very few companies making CBD soap, which means it is very difficult to find in retail stores. The best place to find CBD soap for sale is online, right here at Mission Farms CBD! We properly cure and store our CBD Goat Milk soaps and then ship them right after you place your order. We use a secure online ordering process so your credit card information is always protected. We make it as easy as possible for you to buy the highest quality CBD soap online.

This product is not for use by or sale to persons under the age of 18. The statements on this website have not been evaluated by the Food and Drug Administration.
These products are not intended to diagnose, treat, cure, or prevent any disease. The claims are based on the personal experiences of our customers.