Relieve CBD Goat Milk Soap
$16.00
RELIEVE CBD GOAT MILK SOAP is a chemical-free way to cleanse your body and nourish your skin. The combination of Full Spectrum CBD from our farm, fresh goat milk, and essential oils ease discomfort and soothe your senses.
200mg CBD, 4.5oz, Spearmint Eucalyptus
In stock
Description
LUXURIOUS HYDRATION AND RELIEF
With Relieve CBD Goat Milk Soap, your whole body is immersed in the healing properties of CBD, goat milk, and essential oils when you bathe. And rather than feeling like a medical treatment, it feels like a luxurious trip to the spa. Even the Spearmint Eucalyptus scent of this soap is dreamy.
The magical blend of goat milk and Full Spectrum CBD will soothe dry and irritated skin. So, leave those chemical-laden commercial soaps behind and enjoy our all-natural Relieve CBD Goat Milk Soap.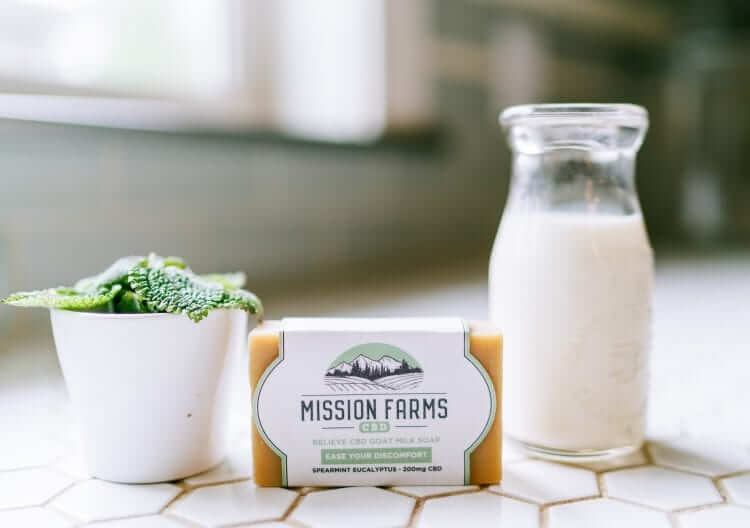 THE HEALING PROPERTIES OF GOAT MILK + CBD
CBD is an all-natural, organic compound that interacts with receptors throughout your body to reduce discomfort levels. At Mission Farms, we have combined our premium CBD with other essential oils and terpenes that help magnify these powerful effects of CBD.
Goat milk is also a magical ingredient because it is high in healthy MCT (medium chain triglycerides). CBD bonds well to MCT, and MCT is absorbed quickly by your skin. This ensures that the CBD is delivered to your aching muscles and joints as efficiently as possible.
The CBD in our soaps increases the availability of anandamide, the chemical your body produces to ease discomfort. And, the natural enzymes in goat milk will hydrate and eliminate dry, brittle skin. CBD + goat milk is a perfect combo to soothe your skin and ease your discomfort.
Additional Product Information
Fresh, Raw Goat's Milk: Naturally exfoliates and supports healthy skin renewal
Whole Hemp Extract: Premium, full-spectrum CBD straight from our farms
Coconut Oil: Extremely moisturizing and skin softening
Olive Oil: Loaded with the vitamins your skin craves
Palm Oil: Antioxidants combat and reverse harmful UV skin damage
Organic Spearmint Essential Oil — Known to ease aches and discomforts. Contains the terpene Limonene which elevates the mood and decreases inflammation, and the terpene Eucalyptal which is an anti-inflammatory.
Organic Eucalyptus Essential Oil — Contains the terpene Eucalyptal which is anti-inflammatory.