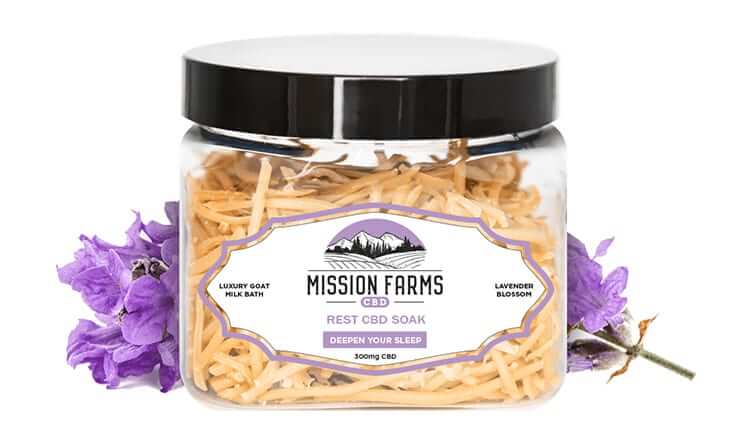 Rest CBD Soak
Lavender Blossom
DEEPEN YOUR SLEEP
Our 300mg, 7oz REST CBD SOAK is a luxury goat milk bath with sleep-inducing CBD and therapeutic essential oils. Approximately eight servings per container.
REST CBD SOAK will:
Quiet your mind and body
Prepare you for sleep
Hydrate & Exfoliate Your Skin
REST CBD SOAK is:
All-Natural
Chemical-free
Nutrient-rich
You've been juggling responsibilities and demands all day. Your to-do list for tomorrow is impossibly long. How do you settle down for a good night's sleep?
It isn't easy. We're right there with you.
The origin of the REST CBD SOAKS was our desire for a better bedtime routine that would help us fall asleep, stay asleep, and wake refreshed. The result is a full-body preparation for bed that feels like a luxurious visit to the spa.
When you exit your REST CBD bath you'll be ready for bed. The worries and stresses of the day go down the drain and you get to drift off to sleep.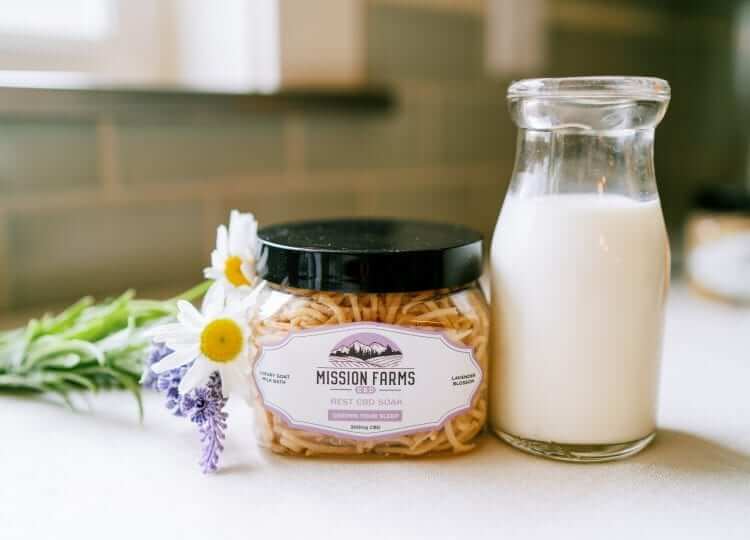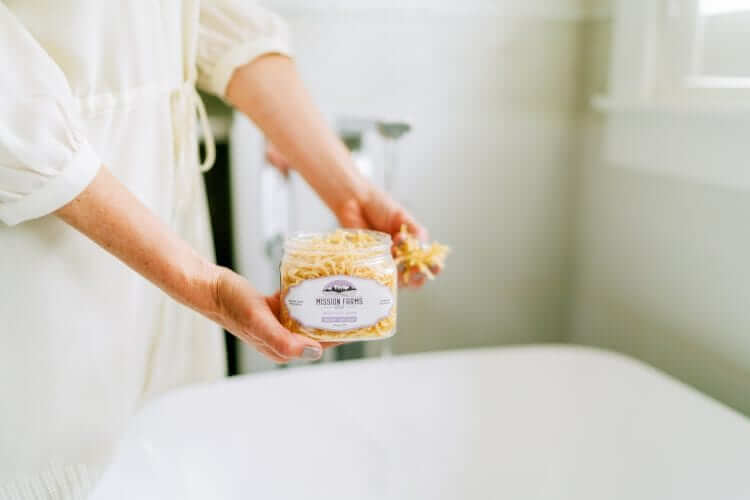 The Magic of Goat Milk + CBD
CBD is an all-natural, organic compound that positivity affects the adenosine receptors in your body that regulate the quality and depth of your sleep. By combining CBD with particular essential oils we are able to enhance the sleep-inducing effects of CBD.
Goat milk is also a magical ingredient. It is very high in MCT (medium chain triglycerides). CBD bonds well to MCT, and MCT is absorbed quickly by your skin. This ensures that the CBD is delivered to areas of tension and and stress.
The fact that your skin absorbs goat milk so well also means that it receives intense hydration and vitamins it craves: A, D, E, and K. Goat milk also has superior exfoliating properties due its naturally occurring lactic acid.
What is in a Rest CBD Soak
Fresh, Raw Goat's Milk: Naturally exfoliates and supports healthy skin renewal
Whole Hemp Extract: premium CBD straight from our farms
Coconut Oil: Extremely moisturizing and skin softening
Olive Oil: Loaded with the vitamins your skin craves
Palm Oil: Antioxidants combat and reverse harmful UV skin damage
Organic Lavender Essential Oil — Known to relax and calm the mind. Contains the terpene Linalool that enhances CBD's ability to relieve stress and combat insomnia.
Instructions for Use
Start a hot bath. Sprinkle in some REST CBD SOAK as the bath fills. Immerse yourself in the relaxing milk bath, and when you're done let the day's stresses go down the drain. Expect 6-12 baths per container.
TRY OUR OTHER PREMIUM CBD GOAT MILK BATH SOAKS


Become A Wholesale Partner
This product is not for use by or sale to persons under the age of 18. The statements on this website have not been evaluated by the Food and Drug Administration.
These products are not intended to diagnose, treat, cure, or prevent any disease. The claims are based on the personal experiences of our customers.