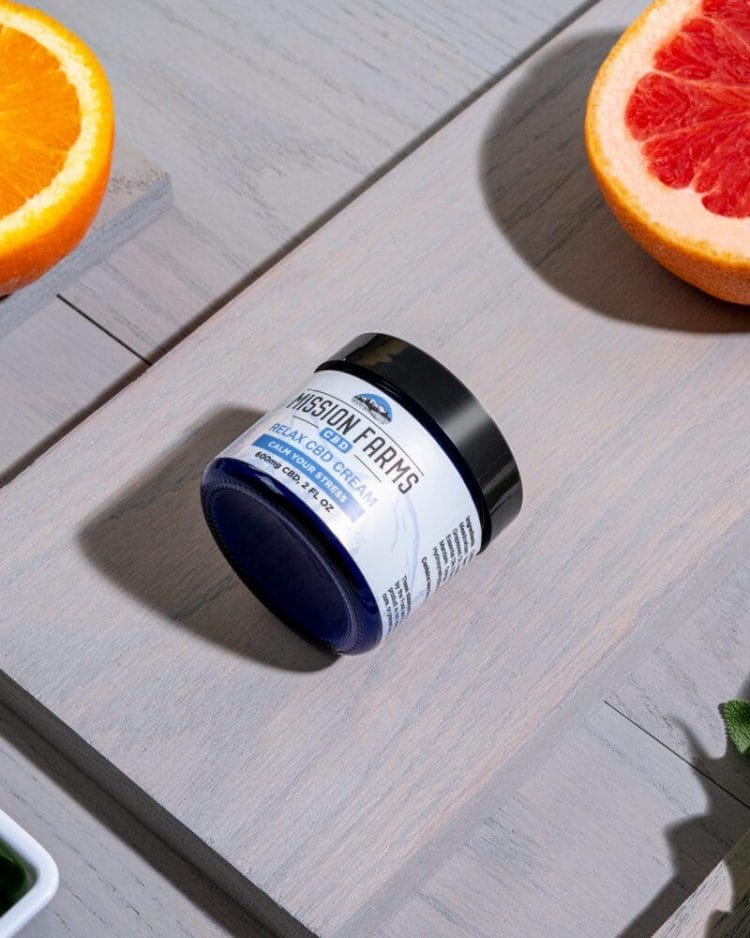 Relax CBD Goat Milk Cream
$39.00
RELAX CBD GOAT MILK CREAM is a luxurious combination of Full Spectrum CBD from our farm, healing goat milk, and organic essential oils that relaxes tense muscles and calms your senses. As a bonus, this non-greasy lotion is rich in nutrients that produce bright, youthful skin.
600mg CBD, 2 fl oz, Citrus Blossom
Out of stock
Description
RELAX WITH GOAT MILK AND CBD
Emails. Texts. Always-on work demands and a busy family schedule. Modern life is pedal-to-the-metal, white-knuckle living.
We get tired just thinking about it! That is why we developed our line of Relax CBD products.
This goat milk lotion with Full Spectrum CBD and calming essential oils is designed to help you relax. CBD increases the availability of serotonin in the brain, easing stress and and anxious thoughts. It also helps your muscles relax by inhibiting the flow of muscle-tightening messengers that are triggered by stress. Knots in your shoulders, anyone? CBD is here to help.
A jar of Relax CBD Cream is a mini spa-experience always within reach.
TREAT YOUR SKIN WITH GOAT MILK AND CBD
Goat milk and CBD is also a secret-sauce for healthy, vibrant skin.
Goat milk is rich in vitamins that nourish your skin and fatty acids that lock in moisture. It is especially high in Alpha-Hydroxy Acid that exfoliates the top layers of skin and then stimulates the production of collagen and elastin so you wake up with bright, youthful skin.
CBD is a powerful antioxidant with anti-aging properties. Oxidative damage is the enemy of youthful skin, reducing vibrancy and elasticity. CBD protects and rejuvenates.
Additional Product Information
View our Third-party Lab Results for our Relax CBD Cream.
Goat's Milk: Naturally exfoliates and supports healthy skin renewal
Whole Hemp Extract: Premium, full-spectrum CBD straight from our farms
Coconut, Shea, & Meadowfoam Seed Oil: Soften and moisturize skin
Ylang Ylang Essential Oil: Contains the terpenes Linalool and Beta Caryophyllene both of which are known to relieve stress and anxiety.
Mandarin Orange Essential Oil: Known to elevate the mood. Contains the terpene Limonene that enhances CBD's ability to relieve stress and elevate mood.
Distilled Water, Goat's Milk, Coconut Oil, Meadowfoam Seed Oil, Shea Oil, Emulsifying Wax NF, Grapeseed oil, Vegetable Glycerin USP, Whole Hemp Extract, Essential Oils (Ylang Ylang, Elemi, Chamomile, Sweet Orange, Mandarin Orange, Patchouli, Tansy), Citric Acid, Sodium Hydroxymethylglycinate, Phenoxyethanol and Caprylyl Glycol.
Massage into tense areas when you want to relax. Repeat as needed.
Additional information
| | |
| --- | --- |
| Weight | 5.2 oz |
| Dimensions | 2 × 2 × 2 in |