Our CBD Gummies are the only gummies on the market to combine fast-acting, extra-strength Nano CBD with the proven effectiveness of organically-farmed Full Spectrum CBD. This combination, along with the quality of premium ingredients and small-batch production, make these the most effective gummies available. Feeling good has never tasted so great!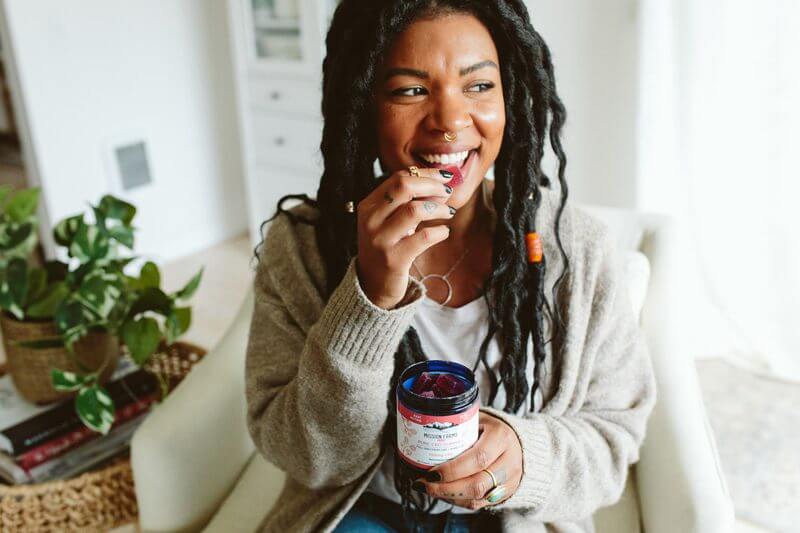 THE MOST EFFECTIVE CBD GUMMIES AVAILABLE
At Mission Farms CBD, we are committed to crafting the most effective CBD products on the market. We have developed proprietary blends of premium ingredients for our gummies and make them in small batches to ensure quality.
Fast Acting: Nano CBD is absorbed by your body 3x as fast as regular CBD. Feel the difference in as little as 15-minutes.
Extra-Strength: About 6x as much nano CBD is absorbed by your body than regular CBD.
More Effective Ingredients: Not only do we use organically-farmed, Full Spectrum CBD from the "Napa Valley of Hemp," which is the most effective CBD available, we have carefully selected other ingredients that make this gummy effective and guilt-free. Tapioca syrup and beet sugar replace the corn syrup you find in most gummies. Our flavors are all-natural. And our Rest CBD Gummies have additional cannabinoids and botanicals to enhance the sleep-inducing effects of the CBD.
This unique combination of Nano CBD, Full Spectrum CBD, and premium ingredients make these gummies the most effective CBD gummies on the market.
NANO CBD GUMMIES ARE POWERFUL
The Nano CBD in our gummies make them more powerful than regular CBD gummies. Nano CBD is comprised of very small CBD molecules that are combined with ingredients that make the CBD water-soluble. It is a technique that is often used in the pharmaceutical industry to increase the absorption rate of medications. The Nano CBD is quickly absorbed into your bloodstream and then into your cells. The extra 4mg of Nano CBD in our gummies is like adding an additional 24mg of CBD. The Nano CBD gives you much more bang for your buck.