Pure CBD Goat Milk Soap
$16.00
PURE CBD GOAT MILK SOAP is a chemical-free way to cleanse your body and nourish your skin. The combination of Full Spectrum CBD from our farm, fresh goat milk, and oats and honey will soothe inflamed and irritated skin. 
200mg CBD, 4.5oz, Oatmeal & Honey
In stock
Description
PURE CBD SOAP FOR SENSITIVE SKIN
Drug store soap brands are harsh on our skin, as they are filled with irritating chemicals and damaging additives. You probably know how hard it is to keep your skin looking young, smooth, and healthy. We get it, because we are frustrated by that itchy, burning, dry skin, too.
Our Pure CBD Goat Milk Soap is the solution.
Our line of Pure CBD Goat Milk Soap is designed for people with sensitive skin who need hydration and moisture added into their skin. The goat milk and Full Spectrum CBD are anti-inflammatory and known to bring relief and even reprieve for people with troublesome skin conditions.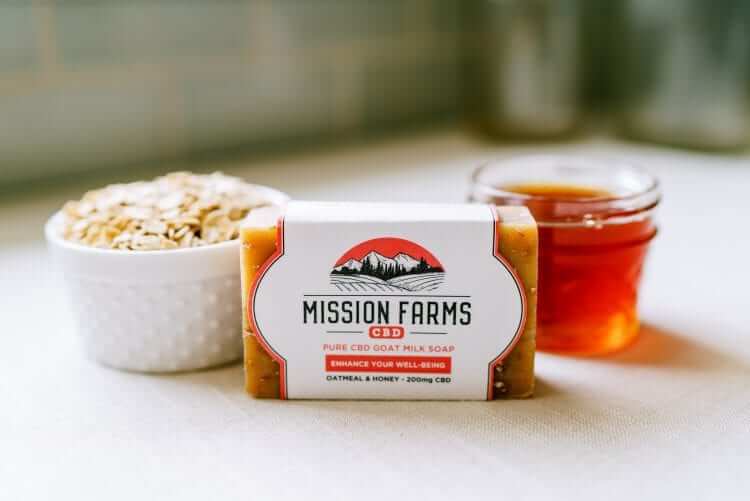 THE SYNERGY OF GOAT MILK AND CBD
The Goat milk and CBD in our soaps work together to hydrate and heal your skin. CBD is an all-natural, organic compound that has anti-inflammatory, anti-microbial, and anti-itch properties. CBD also protects and rejuvenates.
Goat milk is also a magical ingredient. It is highly moisturizing and easily absorbed by your skin. It delivers essential vitamins your skin craves, like A, D, E, and K. It also has superior exfoliating properties.
So, together, goat milk and CBD are doubly effective at locking in moisture and giving you that youthful, bright skin. Pure CBD Goat Milk Soap brings wellness to your whole body while moisturizing and healing your skin.
Additional Product Information
Fresh, Raw Goat's Milk: Naturally exfoliates and supports healthy skin renewal
Whole Hemp Extract: Premium, full-spectrum CBD straight from our farms
Coconut Oil: Extremely moisturizing and skin softening
Olive Oil: Loaded with the vitamins your skin craves
Palm Oil: Antioxidants combat and reverse harmful UV skin damage
Honey: for all-day hydration
Oats: to soothe itchy skin