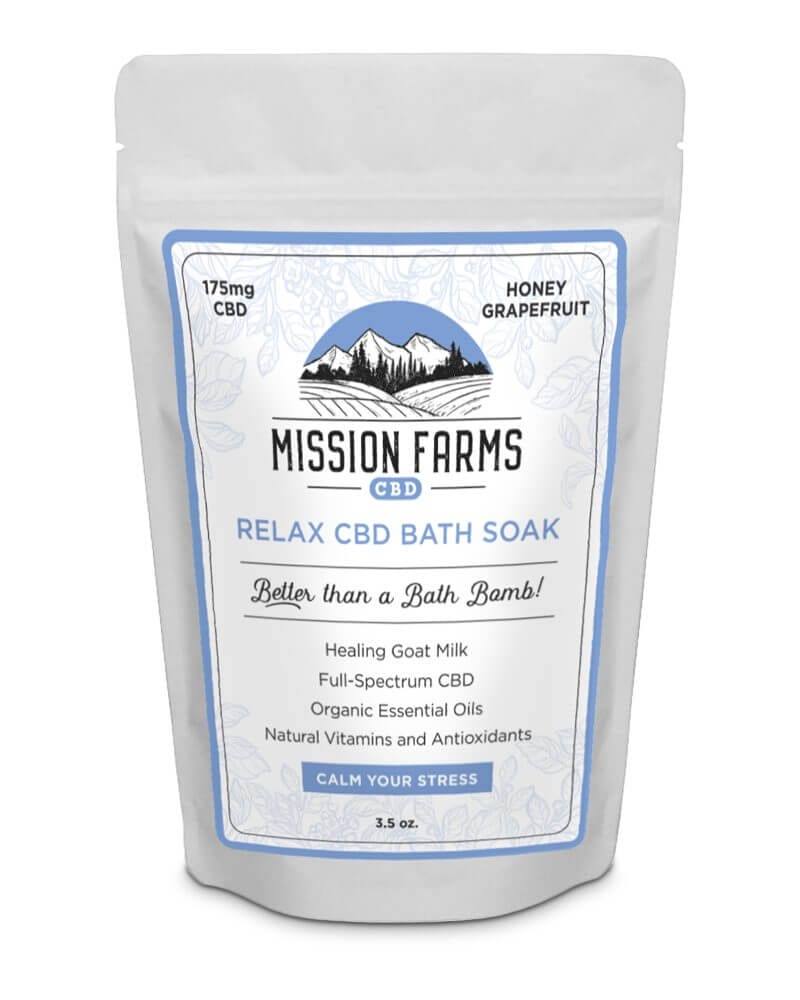 Relax CBD Bath Soak
$20.00
RELAX CBD BATH SOAK is far better than a bath bomb. A combination of Full Spectrum CBD from our farm, fresh goat milk, and essential oils will relax tense muscles and calm your senses. Wash away the stress with a spa-experience in the comfort of your own home. 
175mg CBD, 3.5 oz, Honey Grapefruit
In stock
Description
MORE RELAXING THAN A BATH BOMB!
You deserve an escape at the end of a hard day. You've taken care of everyone else and now it's time to take care of you.
Sprinkle some Relax CBD Bath Soak in your hot bath and prepare for your stress to dissolve away. You're immersed in warmth as the healing properties of goat milk, Full Spectrum CBD, and essential oils do their work. The sun and salt-water of a tropical island have nothing on these soaks.
This luxury can be your little secret. It's better than a bath bomb.
THE MAGIC OF GOAT MILK + CBD
Our goat milk comes from a family farm outside of Bend, OR.
Goat milk is very high in MCT (medium chain triglycerides). CBD bonds well to MCT, and MCT is absorbed quickly by your skin. This ensures that the CBD is delivered to your tense muscles as efficiently as possible.
The fact that your skin absorbs goat milk so well also means that it receives intense hydration and vitamins it craves: A, D, E, and K. Goat milk also has superior exfoliating properties due its naturally occurring lactic acid.
Additional Product Information
Fresh, Raw Goat's Milk: Naturally exfoliates and supports healthy skin renewal
Whole Hemp Extract: premium CBD straight from our farms
Coconut Oil: Extremely moisturizing and skin softening
Olive Oil: Loaded with the vitamins your skin craves
Palm Oil: Antioxidants combat and reverse harmful UV skin damage
Organic Grapefruit Essential Oil — Known for its relaxing smell. Contains the terpene Limonene that enhances CBD's ability to relieve stress and elevate mood.
Organic Ylang Ylang Essential Oil — Contains the terpenes Linalool and Beta Caryophyllene both of which are known to relieve stress and stress.
Start a hot bath. Add some Relax CBD Bath Soak as the bath fills. The more you add, the more luxurious it is. Expect roughly 4-6 servings per 3.5-ounce bag.