Full Spectrum Max Rest CBD Oil
$119.00
A custom blend of Full Spectrum CBD boosted with CBN, CBDa and organic essential oils for powerful relief from sleepless nights. More effective than CBD alone! Contains over 30% specialized cannabinoids known to help you relax, fall asleep and stay asleep.
1000mg Oil:   700mg CBD, 200mg CBN, 100mg CBDa (DISCONTINUED)
2000mg Oil: 1400mg CBD, 400mg CBN, 200mg CBDa
Essential Oils: Lavender, Chamomile, Orange, Cinnamon
Description
JOIN SUBSCRIBE AND SAVE!  
Save 15% and get FREE SHIPPING when you enroll in Subscribe and Save. Limited time BONUS: Sign up today and get a free product in your first three shipments. That's an additional $75 in value!
Full Spectrum Max Rest CBD Oil - 2000mg
Full Spectrum Max Rest CBD Oil - 1000mg
A MORE EFFECTIVE CBD OIL FOR SLEEP
CBD is more effective when accompanied by an entourage of other cannabinoids and terpenes. Different cannabinoids and terpenes act on different receptors in the body. We boost our Full Spectrum Max Rest CBD Oil with specific cannabinoids and terpenes that help your mind and body relax and go to sleep. CBN and CBDa are both cannabinoids that help you quiet down and sleep through the night. The terpenes in lavender and chamomile essential oils are also known to help with sleep.
MORE REST, LESS RESTLESSNESS
Many of us have experienced restless nights tossing and turning. A poor night of sleep can make you miserable and cranky the next day, not to mention cause health problems if sleeplessness continues. Sleeping pills or melatonin may help with sleep, but they can often lead to dependency and leave you groggy the next morning.
Thankfully, there is an all-natural solution that helps you fall asleep, stay asleep, and wake refreshed — without side effects or the risk of dependency. Our Full Spectrum Max Rest CBD Oil is our most effective product for improving your sleep all-naturally. Medical research has linked regular use of CBD to a better sleep-wake cycle because of how CBD affects your circadian rhythm. Most customers experience improvements within a few nights and are more focused and productive throughout the day.
HOW DOES REST CBD OIL WORK?
CBD is an all-natural, organic compound that positively affects the adenosine receptors in your body that regulate the quality and depth of your sleep. It also activates serotonin receptors so you feel relaxed and at peace.
We have added special cannabinoids and terpenes to our Full Spectrum Max Rest CBD Oil to make it even more effective. CBN is found naturally in the hemp plant and has proven effective at helping people sleep better without any psychoactive effects (won't make you high!). CBDa is also found naturally in the hemp plant and is the precursor to CBD. It has some special properties that make it more effective than CBD at helping you relax. We have boosted the levels of CBN and CBDa to craft more effective sleep serum. 
The combination of essential oils we add to our Rest CBD also increase its effectiveness. Organic lavender and chamomile contain terpenes that help your mind and body relax before bed.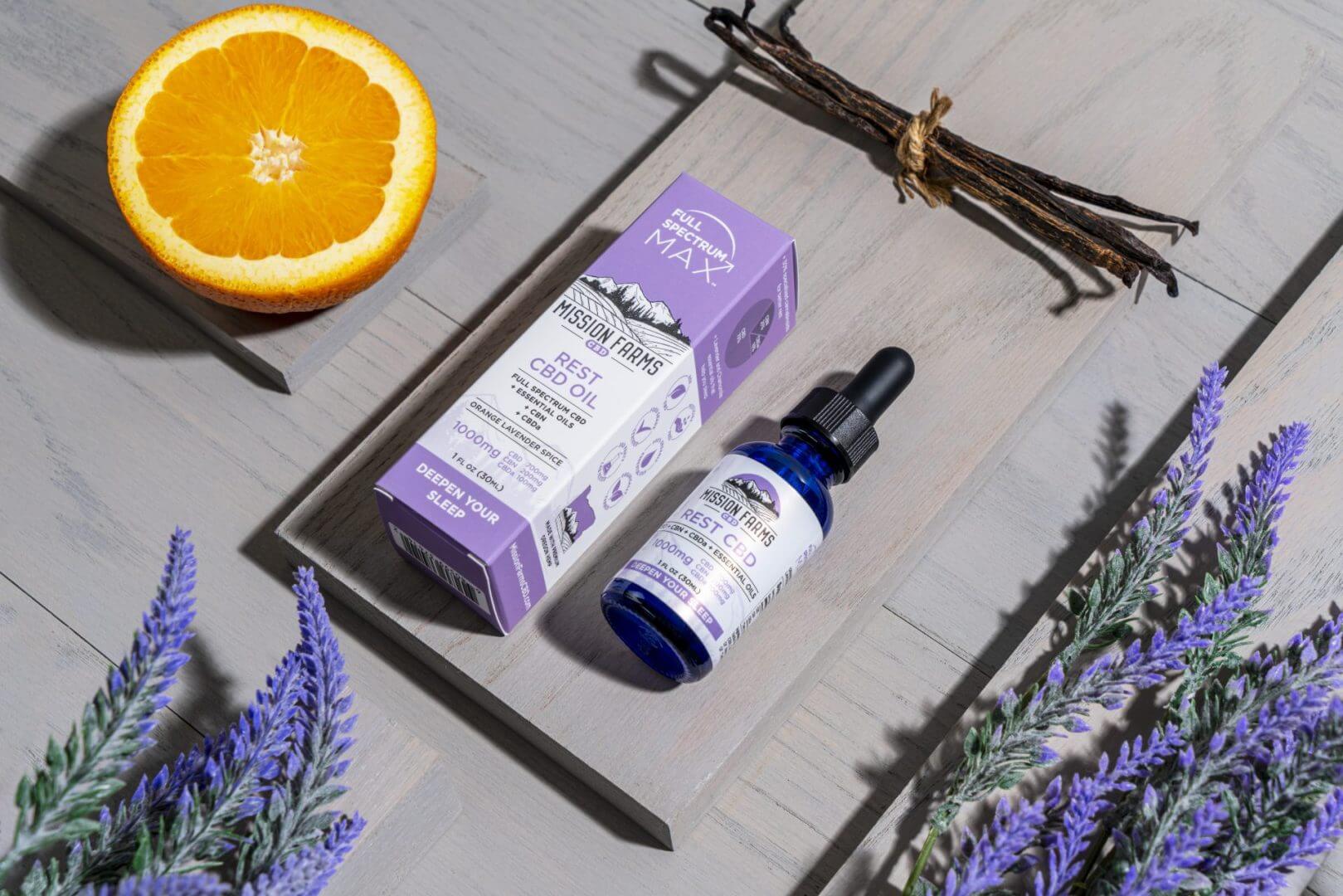 Additional Product Information