Relieve CBD Goat Milk Cream
$59.00
RELIEVE CBD GOAT MILK CREAM is a luxurious combination of Full Spectrum CBD from our farm, healing goat milk, and organic essential oils that eases discomfort and inflammation. You can enjoy  your favorite activities while also moisturizing and nourishing your skin.
900mg CBD, 2 fl oz, Healing Evergreen
In stock
Description
Goat Milk + CBD = Sweet Relief
Maybe you're a professional athlete pushing your body to the limit. Or maybe you're more like us at Mission Farms CBD — continually surprised that daily life now makes you sore. Ugh. Ouch. Argh. (What did I DO yesterday?)
We created Relieve CBD Cream because WE wanted it. And if you are an ultramarathoner or CrossFit champion, hey, you get to enjoy it too!
CBD is a powerful anti-inflammatory. Whether the swelling is from arthritis or suicide squats, CBD takes it head on. The natural MCTs in the goat milk deliver the CBD through the skin to the joints and muscles below. Our Full Spectrum CBD also eases discomfort. Heard of the "runners high"? CBD increases the availability of Anandamide, the natural chemical your body produces to ease discomfort.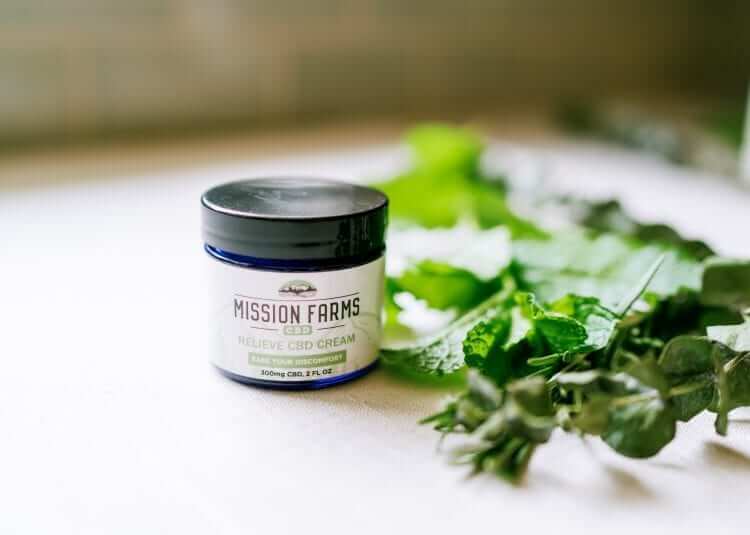 Feel Better and Look Better
Goat milk and CBD is a secret-sauce for healthy, vibrant skin.
Goat milk is rich in vitamins that nourish your skin and fatty acids that lock in moisture. It is especially high in Alpha-Hydroxy Acid that exfoliates the top layers of skin and then stimulates the production of collagen and elastin so you wake up with bright, youthful skin.
CBD is a powerful antioxidant with anti-aging properties. Oxidative damage is the enemy of youthful skin, reducing vibrancy and elasticity. CBD protects and rejuvenates.
Additional Product Information
View our Third-party Lab Results for our Relieve CBD Cream.
Goat's Milk: Naturally exfoliates and supports healthy skin renewal
Whole Hemp Extract: Premium, full-spectrum CBD straight from our farms
Coconut, Shea, & Meadowfoam Seed Oil: Soften and moisturize skin
Peppermint Essential Oil: Contains the terpene Limonene that is known to elevate mood and decrease inflammation.
Eucalyptus Essential Oil: Contains the terpene Eucalyptol, which reduces inflammation.
Distilled Water, Goat's Milk, Coconut Oil, Meadowfoam Seed Oil, Shea Oil, Emulsifying Wax NF, Grapeseed oil, Vegetable Glycerin USP, Whole Hemp Extract, Essential Oils (Siberian Fir, Lavender, Myrrh, Peppermint, Cypress, Myrtle, Lemon Eucalyptus, Marjoram, Eucalyptus Globulus, White Spruce, Eucalyptus Radiata), Citric Acid, Sodium Hydroxymethylglycinate, Phenoxyethanol and Caprylyl Glycol.
Massage into your skin where you have sore muscles or joints. Repeat as needed.
Additional information
| | |
| --- | --- |
| Weight | 5.2 oz |
| Dimensions | 2 × 2 × 2 in |