Full Spectrum Max Relieve CBD Oil
$119.00
A custom blend of Full Spectrum CBD boosted with CBG, CBC and organic essential oils for powerful relief from discomfort and inflammation. More effective than CBD alone! Contains over 30% cannabinoids known to ease aches, pains, and inflammation. 
1000mg Oil:   700mg CBD, 200mg CBG, 100mg CBC (DISCONTINUED)
2000mg Oil: 1400mg CBD, 400mg CBG, 200mg CBC
Essential Oils: Peppermint, Rosemary, Clove
Description
JOIN SUBSCRIBE AND SAVE!  
Save 15% and get FREE SHIPPING when you enroll in Subscribe and Save. Limited time BONUS: Sign up today and get a free product in your first three shipments. That's an additional $75 in value!
Full Spectrum Max Relieve CBD Oil - 2000mg
Full Spectrum Max Relieve CBD Oil - 1000mg
A MORE EFFECTIVE CBD OIL FOR DISCOMFORT AND INFLAMMATION
CBD is more effective when accompanied by an entourage of other cannabinoids and terpenes. Different cannabinoids and terpenes act on different receptors in the body. We boost our Full Spectrum Max Relieve CBD Oil with specific cannabinoids and terpenes that ease symptoms by connecting with pain and inflammation receptors. CBG and CBC are cannabinoids that are especially effective at providing relief. The terpenes in the essential oils we add are also known to help with pain and inflammation.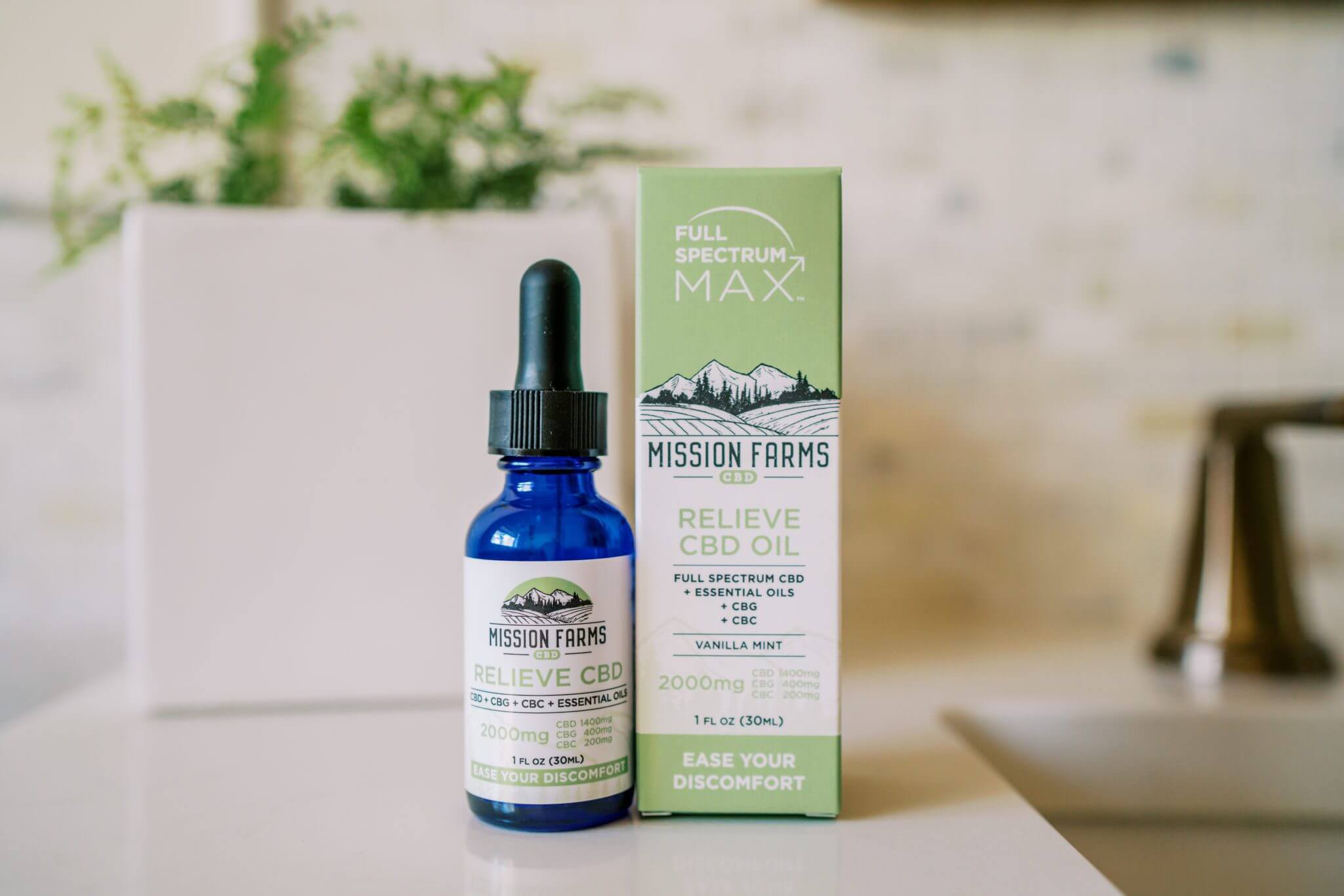 ALL-NATURAL RELIEF WITH RELIEVE CBD
Suffering from on-going pain is something that affects millions of Americans. It can impact families, careers, hobbies, and then leave those in discomfort with depression, frustration, and lack of joy. Doctors may recommend pharmaceutical solutions that cause more side effects, addiction, and other unwanted problems.
We get it. Our team at Mission Farms has had family members with those same issues. That is why we created our all-natural Full Spectrum Max Relieve CBD Oil which offers a pharma-free solution to easing your body's discomforts. Read our customer reviews below to hear first-hand stories of relief!
HOW DOES RELIEVE CBD OIL WORK?
CBD is an all-natural, organic compound that interacts with Vanilloid Receptors throughout the body, which help to reduce pain signals. CBD also increases the availability of Anandamide, which is the chemical your body naturally produces during physical stress to produce the  "runner's high," a pain-free feeling of bliss. CBD doesn't just ease discomfort, it reduces inflammation that is often the cause of discomfort.
We have added special cannabinoids and terpenes to our Full Spectrum Plus Relieve CBD Oil to make it even more effective. CBG is a cannabinoid (that won't get you high!) that is especially good at reducing inflammation. CBC (also won't get you high!) binds with a variety of receptors that help modulate pain and inflammation, and it is a great team player, increasing the effectiveness of other cannabinoids. The combination of terpenes in the essential oils we have added — Limonene, Eucalyptal, Alpha Pinene, Beta-Caryophyllene, and Humulene — work in your endocannabinoid system to reduce pain and inflammation while boosting mood.
Additional Product Information
Additional information
| | |
| --- | --- |
| Weight | N/A |
| Dimensions | N/A |