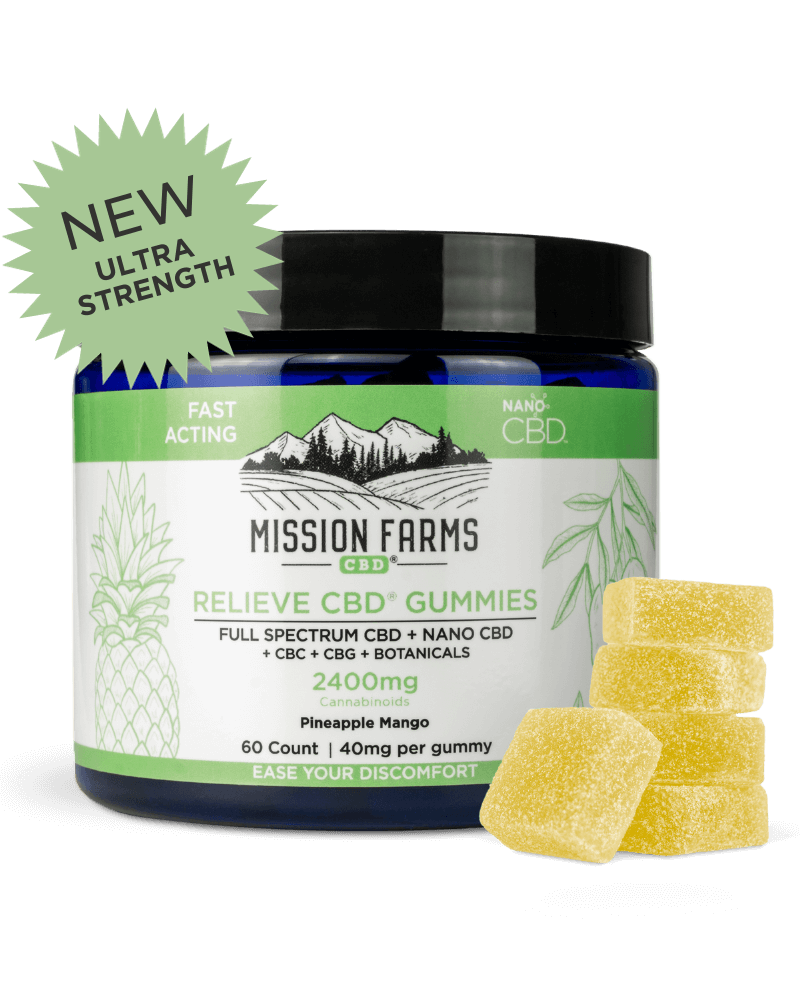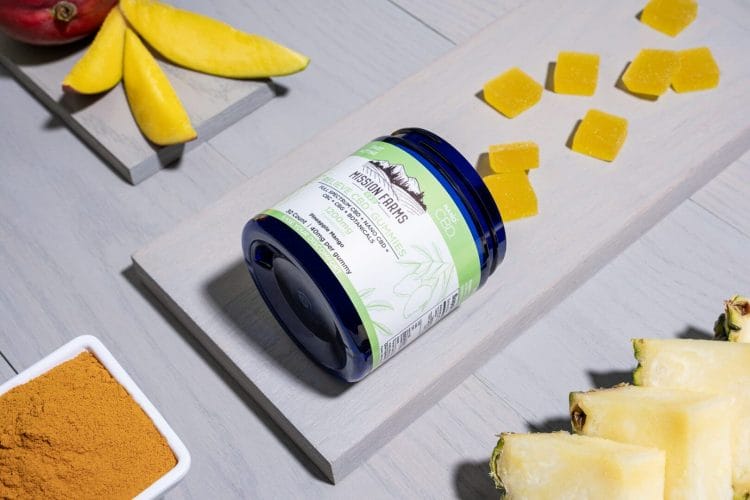 Relieve CBD Gummies with Nano CBD
$30.00 – $129.00
These great-tasting gummies are formulated to reduce pain and inflammation. They combine fast-acting Nano CBD with the proven effectiveness of organically-grown Full Spectrum CBD, CBG, and CBC. As part of our Full Spectrum Max line, we also include botanicals that support easing pain and inflammation like Bromelain, Turmeric, Ginger Root Extract and Black Pepper Extract. These gummies are perfect for after physical activity or any time you experience pain.
Extra Strength: 40mg of cannabinoids per gummy
24mg Full Spectrum CBD
8mg CBG
4mg CBC
4mg of Nano CBD
These gummies are similar to a 60mg  gummy due to the high absorption rate of the Nano CBD, making them the most effective CBD gummies for pain relief available. We recommend combining with a Relieve CBD topical for extra relief.
Description
THE MOST EFFECTIVE CBD GUMMIES FOR EASING DISCOMFORT
At Mission Farms CBD, we are committed to crafting all natural and effective CBD products that offer solutions to some of the most talked about health conditions such as pain, inflammation, lack of sleep, and anxiety. Our Relieve CBD gummies were formulated with specific ingredients to address pain and inflammation. We are so confident that you will be satisfied we are willing to guarantee it, offering you a refund up to 30 days after purchase.
Fast Acting:

Nano CBD is absorbed by your body 3x faster than regular CBD and is felt in as little as 15-minutes.

Ultra Strength:

Each gummy contains 40mg of cannabinoids, including Nano CBD, which has a 6x greater absorption rate by your body than regular CBD due to the emulsification process

Pain Relief Ingredients:

These Full Spectrum Max gummies contain a blend of cannabinoids and botanicals that are known to help with pain and inflammation: CBD, CBG, CBC, Turmeric, Bromelain, Ginger Root Extract and Black Pepper Extract.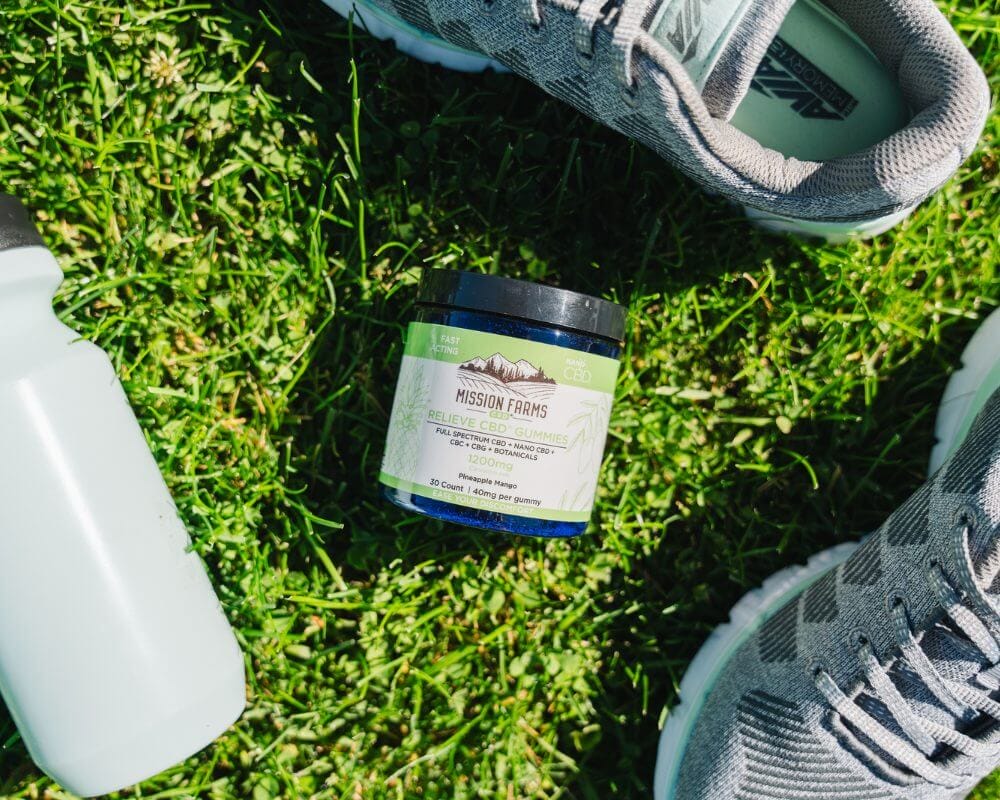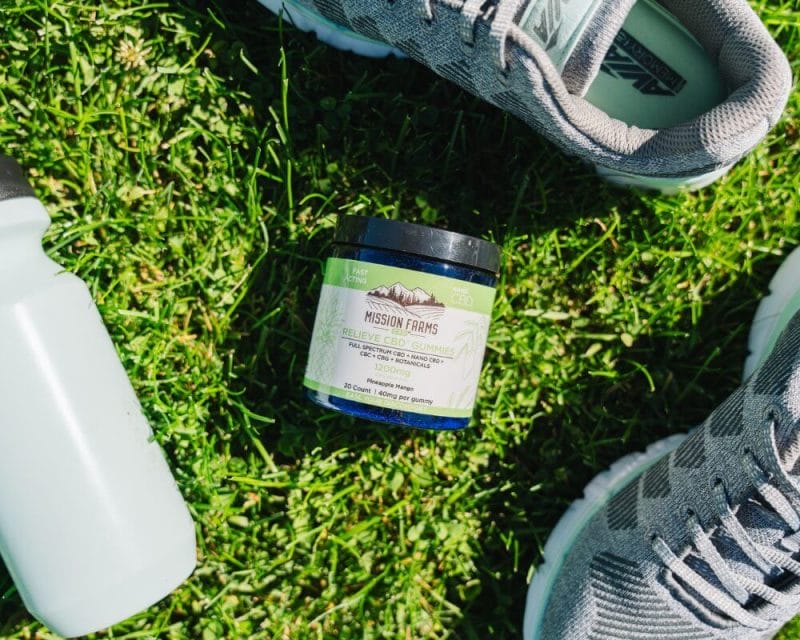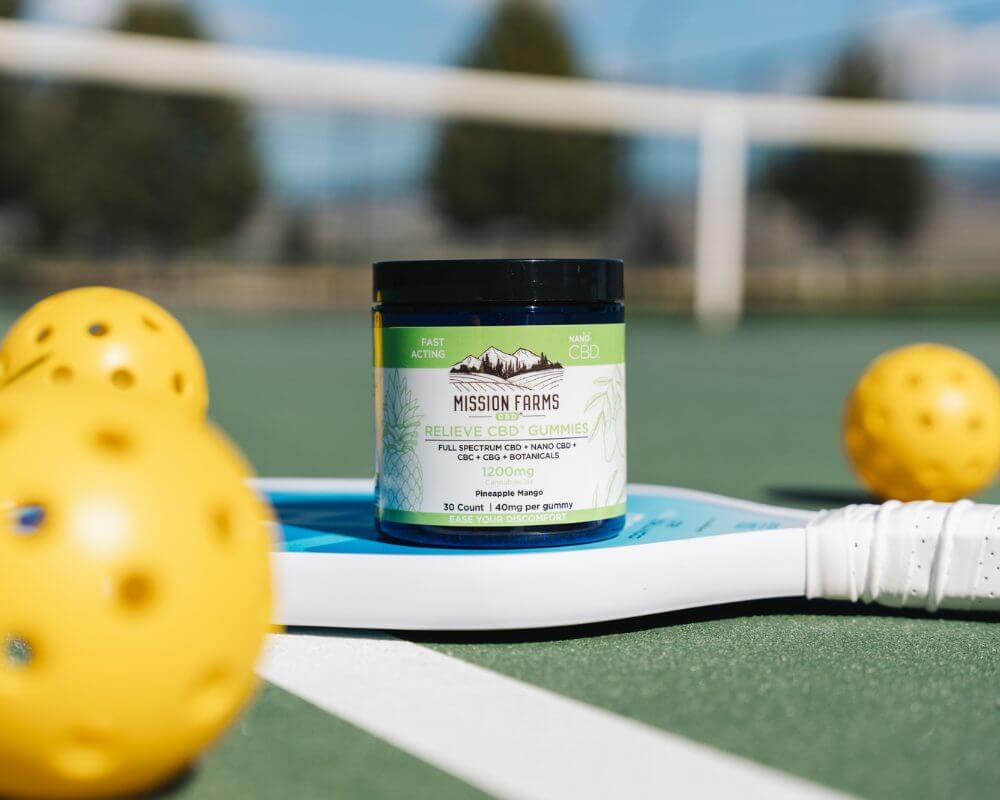 NANO CBD GUMMIES ARE MORE POWERFUL
The Nano CBD in our gummies makes them more powerful than regular CBD gummies. Nano CBD is composed of very small CBD molecules that are combined with ingredients that make the CBD water-soluble. It is a technique that is often used in the pharmaceutical industry to increase the absorption rate of medications. The Nano CBD is quickly absorbed into your bloodstream and then into your cells. The extra 4mg of Nano CBD in our gummies is like adding an additional 24mg of regular CBD. The Nano CBD provides faster and more effective relief than regular CBD, providing exceptional value.
Effective Cannabinoid Content: 60mg per gummy, 1800mg per 30ct jar.
A DELICIOUS OPTION TO EASE DISCOMFORT
Relieve CBD gummies are a delicious pineapple mango flavor that combines the proven effectiveness of organically grown Full Spectrum CBD with other specific ingredients to reduce pain and inflammation quickly. We achieved our goal in producing a delicious and powerful gummy that provides a physical and emotional boost and successfully reduces discomfort and inflammation. RELIEVE CBD gummies are great for post-workouts and other forms of physical pain and inflammation.
Additional Product Information
Additional information
| | |
| --- | --- |
| Weight | 6 oz |
| Dimensions | 4 × 4 × 5 in |
| Size | 60 count: Pineapple Mango, 2400mg, 30 count: Pineapple Mango, 1200mg, 10 count: Pineapple Mango, 400mg (Travel Size) |