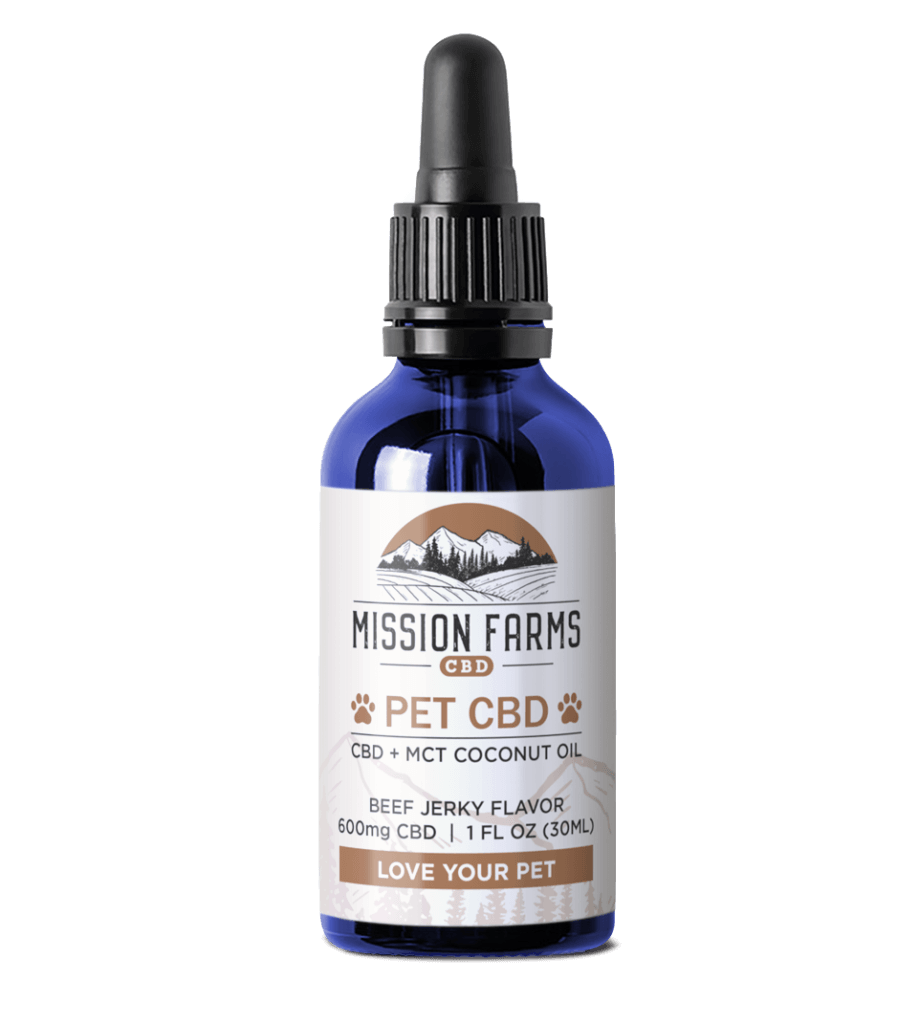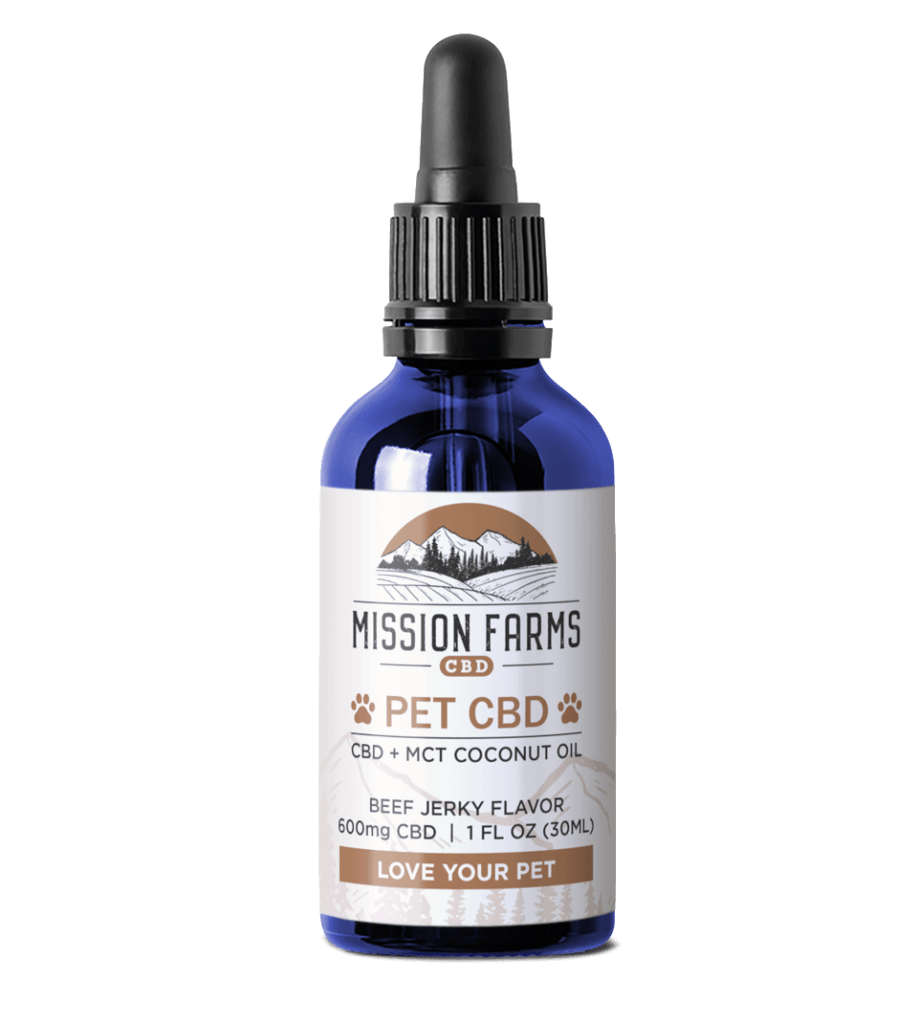 We created Pet CBD Oil to help our aging pets feel youthful and our stressed pets feel calmer. A happier pet means a happier you. 600mg CBD per bottle.
PET CBD will:
Calm nerves and anxiety
Ease your Pet's discomfort
Improve joint mobility
PET CBD is:
All-Natural
Lab-Tested
Delicious! (Mmm, Beef Jerky)
And… Save 15% with Subscribe and Save!
Get Pet CBD Oil auto-shipped!
Choose every 1, 2, or 3 months.
Save 15% and make life easier!
Subscribe and Save 15%
Make Life Easy with Auto-shipments
Learn More
Pet CBD Reviews from Verified Users
" We have been able to keep our girl discomfort free while off her normal arthritis medications!  It is very nice to be able to provide this discomfort control naturally! "
" We have found that after using Mission Farms CBD on our 13 year old dog that her arthritis and knee discomfort has dissipated. This is without the recommended knee surgery, which we did not want to expose her to with her age. "
" I have a high-stress dog. After giving her Pet CBD she has gotten much calmer. And the oil flavor makes it easy for her to take. " 
" I wanted to say thank you on behalf of Finn. He loves the CBD oil and doesn't have any problems consuming it. It's helped him bark less and have less stress when I am away from home. I can tell he's more comfortable, relaxed, and less stressed in general when he has his CBD. "
" Our dog is terrified of thunderstorms and fireworks. In the past, I gave him Benedryl to try to quell his stress during these episodes. I'm am so grateful Mission Farms CBD has developed a pet line. I feel so much better about giving him CBD instead of a drug intended for humans with myriad side effects. Now when there is the first quiet thunder from afar, Owen comes to me begging for his "treat". I hold his jaw and squirt the oil under his tongue. He is content to take the CBD this way and it settles his stress quickly. Hooray and thank you Mission Farms! "
READ MORE PRODUCT REVIEWS ON OUR PET CBD
What Is CBD Oil?
CBD, or cannabidiol, is an organic compound found in hemp. Unlike THC, it does not make people–or pets–high. But it does have a variety of health benefits. Both you and your pet have an endocannabinoid system that uses cannabinoids produced naturally by our bodies and by the hemp plant. That's right, our bodies produce cannabinoids and we have a whole body system that uses them to increase the healthy functioning of our bodies.
How Does CBD Affect Pets?
Humans and other mammals have an endocannabinoid system and are affected similarly by CBD. CBD can benefit your dog, cat, or horse in the same way it benefits you. Two of the primary reasons that people give their pets CBD are for discomfort and anxiety.
CBD is a powerful anti-inflammatory and naturally reduces discomfort. Many people give their older dog cbd oil because it naturally treats inflamed joints. As dogs age, many have difficulty getting around the house or going for walks. It is a joy to see an older dog running and climbing stairs again. We often hear from customers who are delighted to have their companion back for walks and other adventures. CBD oil for dogs will likely grow in popularity as more people discover this all-natural remedy for recovering a spring in their pet's step.
Many people take CBD for stress and anxiety because it helps them remain more calm throughout the day. CBD has the same effect on pets. You can use CBD oil for pets who have anxious personalities or exhibit stress in various situations. For example, many dog owners dread the Fourth of July because the fireworks can send their pup into a panic. CBD oil for dogs really comes in handy on the Fourth. It helps them remain calm as the blasts go off. Other people use our full spectrum CBD oil for dogs when their dog has separation anxiety. This not only makes life more serene for your dog, it improves relationships with neighbors by reducing barking!
There are other reasons to consider CBD oil for pets. CBD can help with nausea, seizures, sleep, and more. Going for a long car ride on windy roads with your pet? Reach for Mission Farms Pet CBD Oil an hour before the ride. It will be a better experience for both you and your pet!
Choosing the Right CBD Pet Product
What should you look for when choosing a CBD pet product?
Full Spectrum — Full Spectrum CBD OIl for dogs, cats, horses and other pets will always be more effective than CBD isolate or CBD broad spectrum. Full Spectrum CBD oil contains the most cannabinoids that occur naturally in the plant. These additional non-psychoactive cannabinoids make the CBD more effective. At Mission Farms, we use full spectrum hemp extract in our Pet CBD Oil to make sure it is as effective as possible.
Organic — You want to give your pet a product that is free of pesticides and chemicals. It's essential for their health. At Mission Farms CBD, we farm our hemp organically, using no pesticides and only all-natural fertilizers. We test the hemp to ensure that it has no heavy metals, pesticides, or mold. We test the hemp extract for heavy metals, pesticides, mold, and solvents. We then test the final product. It's a little fanatical, but hey, we have pets too, and we love them! We want to make sure that our pets and yours are healthy. Organic CBD Oil for dogs, cats, and horses is the way to go.
Oil Not Treats — When deciding on CBD for dogs, cats, horses or other pets, your best bet is to go with a CBD oil. Some companies offer a variety of pet treats that contain CBD and it can be tempting to get your pet a "treat." The problem is that pet treats don't allow you to give a precise dosage depending on the specific needs and weight of your pet. CBD oil for dogs, cats, and other pets can be administered precisely with drops or a graduated dropper. At Mission Farms CBD, we make a Pet CBD Oil, rather than treats, so that you can give your pet exactly what they need.
How Much CBD Oil Should I Give My Pet
How much CBD oil you give our pet depends on two things: their weight and the severity of their condition. The more they weigh, the more Pet CBD Oil you should give them. The more severe their condition, such as discomfort or stress, the more Pet CBD Oil you should give them.
As a starting point, we recommend 2.5mg of CBD per 10 pounds. For smaller pets, this works out to 5 drops per 10 pounds. For larger pets, it's easier to use the graduated dropper to measure the correct amount. Measure .25ml per 20 pounds (¼ of a dropper) in order to administer 2.5mg of CBD per 10 pounds. If 2.5mg per 10 pounds doesn't seem to help, increase the dosage. Some dogs with sore joints don't feel better until they are receiving more than 5mg per 10 pounds, or double the recommended dosage.
It is okay to experiment a bit to find the ride dosage for your pet. Will your pet be harmed by taking too much pet hemp oil? It's very unlikely. Humans are able to take doses 50x what is recommended without side effects. But we always recommend speaking with your veterinarian.
CBD Oil for Dogs
Here at Mission Farms CBD we are dog lovers. In fact, Bend Oregon is known as a dog-friendly community with pets accompanying their families on outdoor adventures and restaurant visits alike. CBD for dogs has quickly grown in popularity because it allows dogs with sore joints and mobility issues to accompany their families on the outdoor activities they love to do together. We know dogs who have gone from laying on their bed 22 hours a day because of their old age and aches and pains to eagerly playing fetch and going on walks along the river. Their owners light up when they tell the stories. A few of us at Mission Farms CBD have dogs that get anxious on car rides. That makes for a less serene ride for everyone in the car. Mission Farms Pet CBD Oil to the rescue! Road trips are much more enjoyable. We hear the same kinds of stories from customers across the country. If you have a sore or high-strung dog, it's worth a try — especially with our money back guarantee.
Where To Buy Pet CBD Oil
Many people wonder where to buy CBD oil for dogs, cats, or other pets. The best place to buy cbd for dogs, cats, and other pets is right here at Mission Farms CBD! We store our Pet CBD Oil in ideal conditions and then ship it directly to your door. We make it as convenient as possible, saving you time and money. CBD products are still fairly scarce in retail locations, and when you find it, you often are not able to read reviews or view test results. Buying CBD online is the way to go, and we are glad to be your trusted source. We are so confident that our Pet CBD Oil will result in a healthier pet and happier owner that we offer a 30-day money back guarantee. If you don't love it, we will refund your money. What are you waiting for?
Subscribe & Save Information
Save 15% on your orders!
Save 15% on all items enrolled in auto-shipment.
Make life easy! We ship right to your door.
You are in control!
Choose how often you receive your delivery – Every 1, 2, or 3 months.
Move your auto-shipment sooner, if you are running out.
You can cancel your auto-shipments at any time.
Note that coupons cannot be added to the 15% savings you already receive in auto-shipments. Promotion and terms are subject to change.

This product is not for use by or sale to persons under the age of 18. The statements on this website have not been evaluated by the Food and Drug Administration.
These products are not intended to diagnose, treat, cure, or prevent any disease. The claims are based on the personal experiences of our customers.