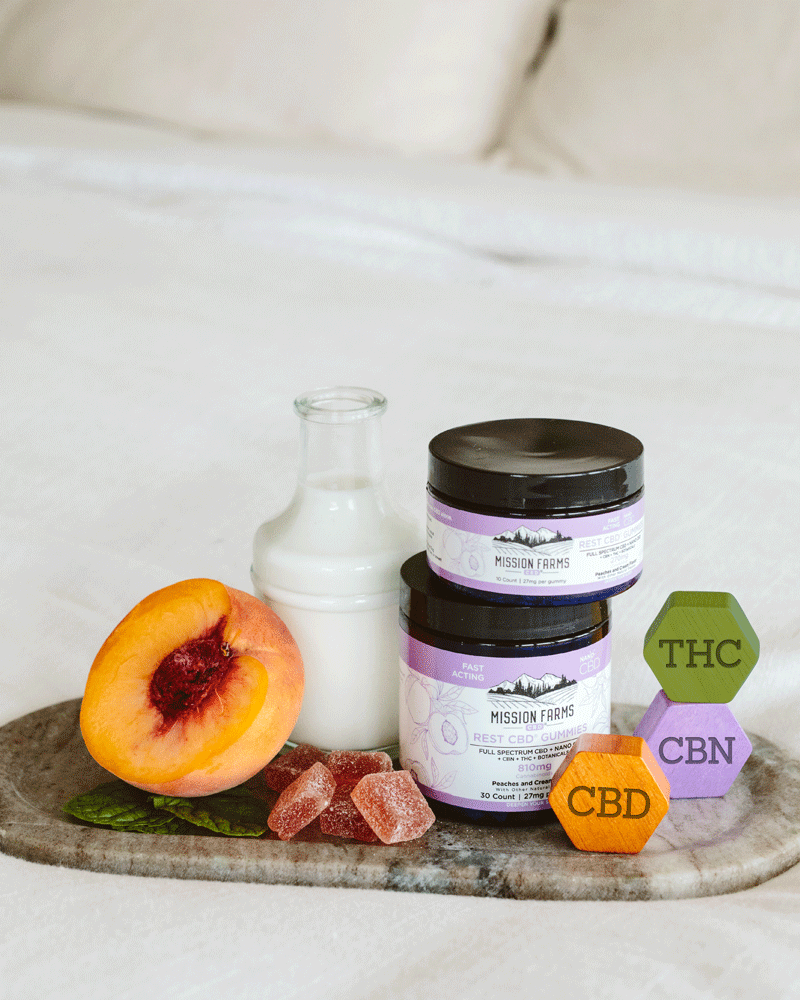 Rest CBD Gummies with Nano CBD
$25.00 – $115.00
These delicious, nightly treats combine fast-acting, extra-strength Nano CBD with the proven effectiveness of organically-grown Full Spectrum CBD. Part of our Full Spectrum Max line, we have also added sleep-inducing ingredients like CBN, THC, Lemon Balm and Valerian Root to help you fall asleep quickly, stay asleep, and wake refreshed.
Extra Strength: 27mg of cannabinoids per gummy
16mg Full Spectrum CBD
5mg CBN
4mg Nano CBD
2mg THC
These gummies are similar to a 47mg gummy due to the high absorption rate of the Nano CBD, making them the most effective CBD gummies for sleep available.
Description
THE MOST EFFECTIVE CBD GUMMIES FOR SLEEP AVAILABLE
At Mission Farms CBD, we are committed to crafting the most effective CBD products on the market. We did not release a gummy for sleep until we discovered a combination of all-natural, sleep-inducing ingredients that got exceptional results. These Rest CBD Gummies are guaranteed to help you fall asleep quickly, stay asleep, and wake refreshed or we will give you your money back.
Fast Acting: Nano CBD is absorbed by your body 3x as fast as regular CBD. Feel the difference in as little as 15-minutes.

Extra-Strength: About 6x as much nano CBD is absorbed by your body than regular CBD.

Sleepy Time Ingredients: These Full Spectrum Max gummies contain a proprietary blend of cannabinoids and botanicals that are known to help with sleepless nights: CBN, THC, Lemon Balm, and Valerian Root.
This unique combination of Nano CBD and Full Spectrum CBD, plus the other sleep-inducing ingredients, makes these the most effective CBD gummies on the market for getting the rest you need.
Learn more in our blog post…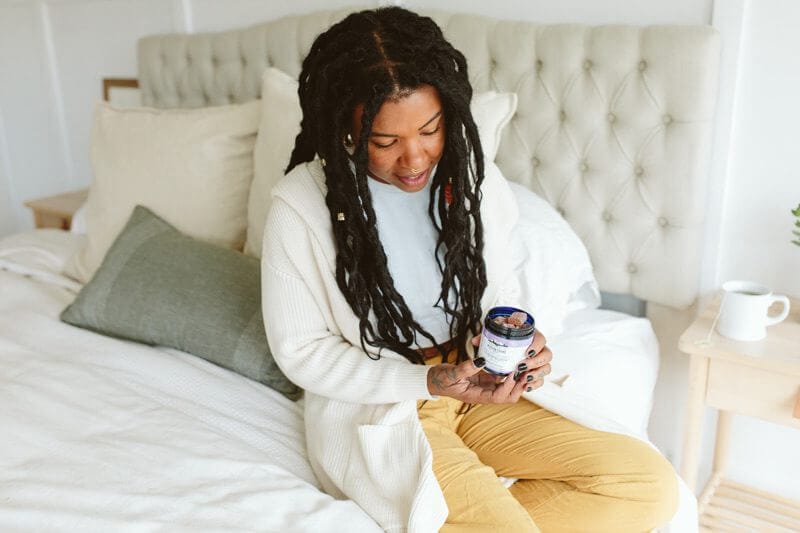 NANO CBD GUMMIES ARE MORE POWERFUL
These CBD Gummies have 27 mg of cannabinoids each, but they have the effectiveness of a 47mg gummy. How does that work? Nano CBD is comprised of very small CBD molecules that are combined with ingredients that make the CBD water-soluble. The result is a type of CBD that your body absorbs more easily. The Nano CBD is quickly absorbed into your bloodstream and then into your cells. As a result, you get almost twice as much CBD per Mission Farms gummy than you do with other gummies.
Effective Cannabinoid Content: 47mg per gummy, 1410mg per jar.
A NIGHTLY TREAT TO HELP YOU SLEEP
Our delicious peaches and cream flavored gummies mean you can "treat yo self" before bed every evening. In creating a bedtime gummy, it had to remind us of a delicious yet healthy dessert. We love this peaches and cream flavor! And we do not feel guilty eating them since they use all natural flavors and tapioca syrup instead of corn syrup.
There was a time in the early days of CBD when you might have to pinch your nose just to swallow the CBD oil. Not anymore. Now the challenge is to stop after just one or two of our sleep gummies.
Additional Product Information
Additional information
| | |
| --- | --- |
| Weight | 6 oz |
| Dimensions | 4 × 4 × 5 in |
| Size | 30 count : Peaches and Cream, 810mg, 2-Pack Full Size: Peaches and Cream, 30-count, Travel Size- 10 count: Peaches and Cream, 270mg, 60 count: Peaches and Cream, 1620mg, 30 count: Peaches and Cream, 810mg, 10 count: Peaches and Cream, 270mg |