Pure CBD Peppermint Mints
Extra-Strength
Our new, Extra-Strength Pure CBD Mints in Peppermint are the best way to take CBD with you anytime, anywhere! With 20mg of CBD per mint, these refreshing Mints will boost your well-being throughout the day.  And they are THC-Free!
These CBD Mints are:
Up to 5x more effective than CBD gummies
Discreet and easy-to-carry
Free from THC, per lab testing
Great for the office, car, purse, or on-the-go
Available in two sizes:
Full-size (600mg CBD), 30 Mints
Trial-size (200mg CBD), 10 Mints
Peppermint CBD Mints
20mg CBD per Mint
TAKE CBD WITH YOU, ANYTIME, ANYWHERE
The Pure CBD Mints made by Mission Farms CBD provide you with a fantastic way to take CBD with you on-the-go. Easily slip the Mint tins into a bag, purse, or keep them in the car. No need to worry about carrying CBD Oil bottles that might break or leak. These CBD Mints are the best method to keep CBD with you all day!
Our Pure CBD Mints come in either a trial-size tin (10 mints) or full-size tin (30 mints). These Mints have 20mg of CBD per mint, so you can enjoy several mints throughout the day. If you aren't quite sure how to begin, we suggest a trial-size tin to get started!
Our team at Mission Farms has spent months perfecting the delicious peppermint flavor of these CBD Mints while also eliminating any earthy aftertaste. The result: a fabulous way for you to enjoy CBD while also giving your body the boost it needs! Oh, and as a bonus, these Peppermint CBD Mints are THC-Free!
MORE EFFECTIVE THAN CBD GUMMIES OR CAPSULES
Our peppermint-flavored Pure CBD Mints are far more effective than CBD gummies. You will absorb up to five times the CBD with our mints than you will with any gummy or capsule.
There are different ways for our bodies to absorb CBD, which is known as "bioavailability." Medical research tells us that CBD is absorbed at a higher rate through the soft palate in our mouths than through our digestive system. This is why CBD Oils and CBD Mints have higher absorption rates than CBD gummies or capsules.
Pop our CBD mints in your mouth and you will enjoy a delicious flavor and your body will be absorbing the CBD far more effectively than if you swallowed a CBD gummy or capsule. So make the switch away from CBD gummies today and see a 5x improvement in CBD absorption!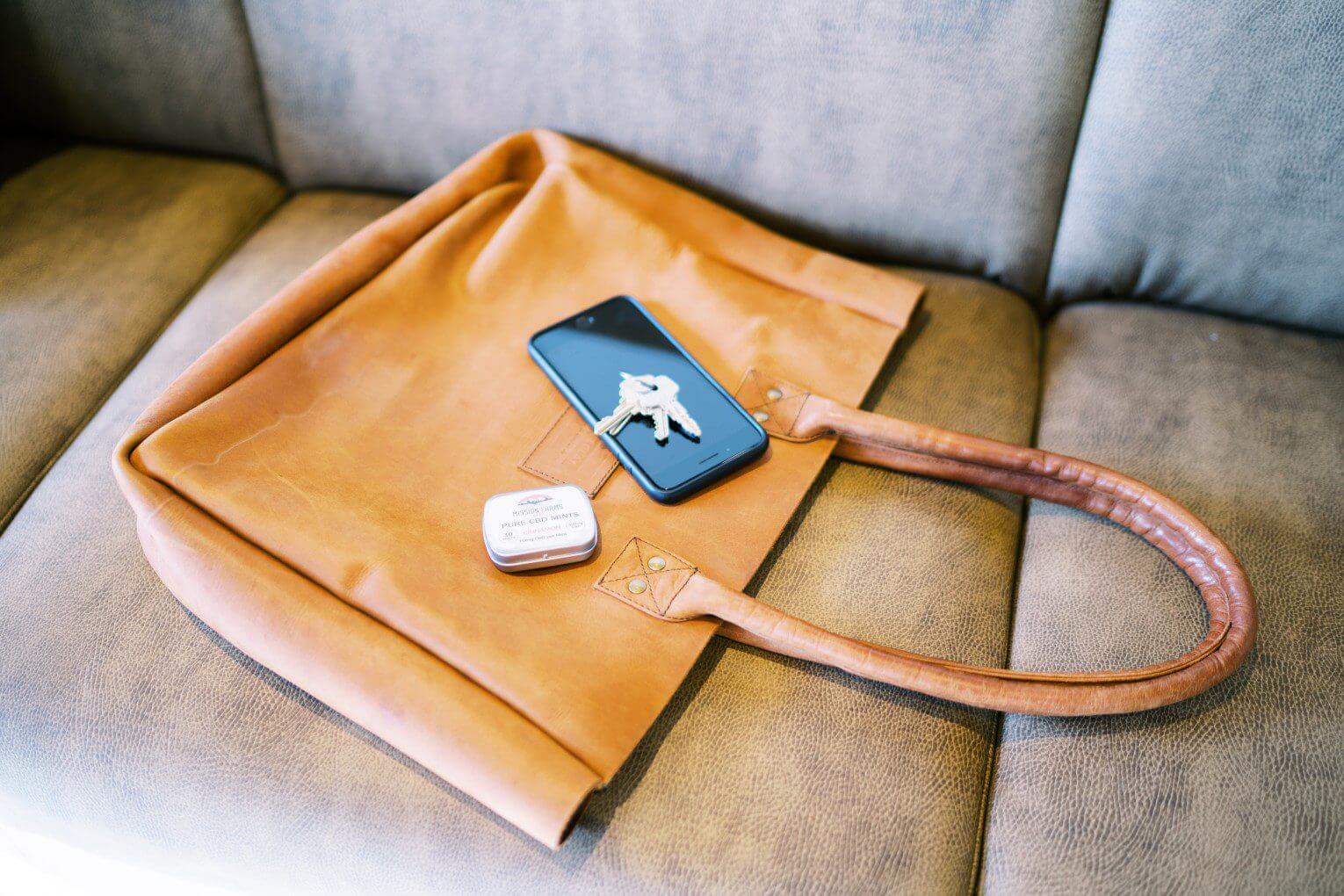 A DISCREET WAY TO BOOST YOUR MOOD
Have you ever been in a stressful situation where you craved a quick solution to provide some calm?  Enter CBD Mints!  They have the fabulous benefit of being discreet, which means you can pop a mint in your mouth and those around you won't realize you are getting a quick CBD fix!
Take a CBD Mint before an event that gives you social stress…. or keep CBD Mints in your car for the rush-hour traffic that spikes your bad mood.  Pack them when visiting the in-laws, or when attending the company conference, or even when coaching your kid's sports team. 
A Pure CBD Mint can come in handy at any time to boost your mood, calm your stress, or even reduce inflammation.  They are a must-have, and nobody needs to know your secret trick to staying calm in the midst of stress!
ENJOY PEACE OF MIND BY BEING THC-FREE
When creating these Peppermint CBD Mints, we use CBD Isolate, which means we add additional processing to remove the THC. Our third-party lab testing shows that THC levels are undetectable. This makes our THC-Free Peppermint CBD Mints an excellent choice for people who are in professions that have THC testing required.
Our all-natural THC-Free Peppermint CBD Mints can reduce inflammation and improve your mood, while also providing the peace of mind that you are not consuming THC. Give your wellness a boost and feel good again with THC-Free Peppermint CBD Mints!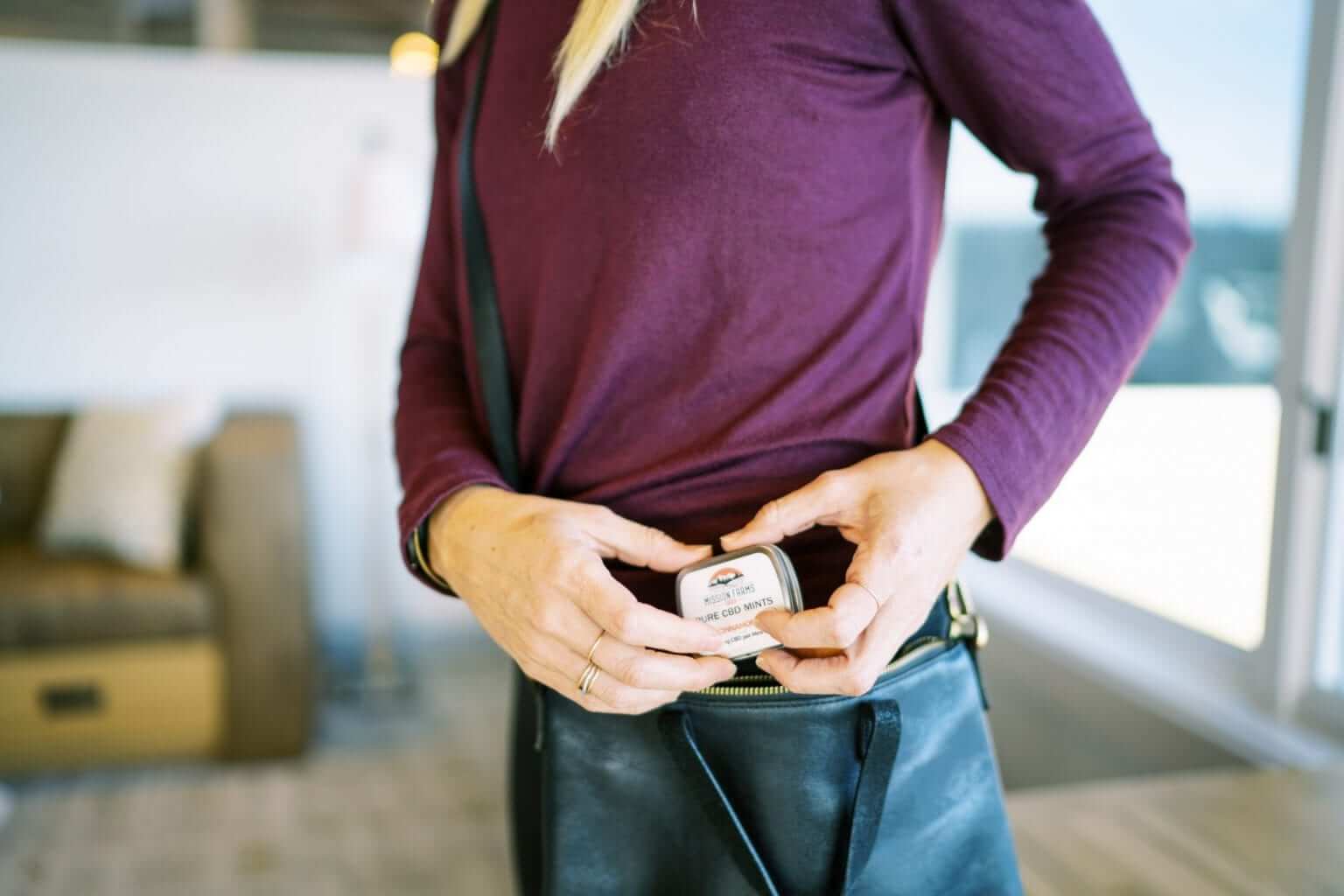 WHAT IS IN A TIN OF PEPPERMINT CBD MINTS:
KEY INGREDIENTS
Hemp Extract— Contains CBD isolate derived from Oregon-grown hemp. This has undergone additional processing to remove THC, so it is ideal for those in professions that have THC testing.
Organic Peppermint Flavoring: A perfect way to refresh your breath!
View our Third-party Lab Results for our Pure CBD Peppermint Mints.
ALL INGREDIENTS
Dextrose, Hemp Extract, Stearic Acid, Organic Peppermint Oil. Contains non-detectable THC, per third-party lab testing.
Note about Peppermint CBD Mint Label: These Peppermint CBD Mints are THC-Free. They are made with CBD Isolate that contains no detectable THC, per our lab tests (which you can view via the link above). The label on the mint tin says "Less than .3% THC" which is a labeling requirement to indicate that the product is federally legal.  
INSTRUCTIONS FOR USE
Take a Peppermint CBD Mint anytime, anywhere. A recommended dose is two mints, but feel free to take several throughout the day.
The longer you are able to keep the Mints in your mouth, the more effective they are. The CBD is absorbed through your soft palate in your mouth, so try to let the Mint linger in your mouth, rather than chewing it quickly.
Enjoy refreshingly clean peppermint breath.
Why are Mission Farms CBD Mints the Best CBD Mints on the Market?
CRAFTING THE BEST CBD MINTS
When we chose to create a CBD Mint we did an extensive CBD mints review, trying every mint we could get our hands on. We were determined to create the best CBD mints available. Why did we decide to create mints? While gummies are popular, they simply aren't as effective as mints because less CBD is absorbed when you eat a gummy than when you suck on a mint. At Mission Farms CBD, we are committed to creating products with a dose that makes a difference.The mints we tried came in a variety of flavors and textures, and frankly, we weren't impressed with any of them. We wanted a mint that was hard enough to suck on for an extended period so you could gradually absorb the CBD. We also wanted a fresh flavor that treated bad breath. We have succeeded in creating a hard, potent peppermint mint. Our mints are created using an old-fashioned mint machine that imparts thousands of pounds of pressure, creating a hard mint that won't dissolve too quickly. We also found a local mint farm that created a high quality, organic mint essential oil that we love. We did many iterations of the recipe to get it dialed in perfectly. We believe we have succeeded in crafting the best CBD mints available on the market. But don't take our word for it, read each CBD Mint product review above.
CBD YOU CAN TRUST
While most of our products use full-spectrum CBD distillate, we chose to use CBD isolate in our mints in order to expand our offering of THC-Free products. Many people take these mints throughout the day to manage stress and we didn't want anyone to have the added worry in the back of their mind that they might fail a drug test. The CBD isolate we use comes from our hemp farms in Bend, Oregon. CBD isolate is derived from hemp so, in a sense, you could call these Hemp Mints. Thankfully, they are hemp mints without the hemp flavor! All you taste is peppermint. They contain natural ingredients, including the CBD isolate derived from hemp. If you are looking for a full-spectrum CBD product, try our CBD Oil. We presently offer THC-Free CBD Mints, rather than full-spectrum CBD oil mints.The CBD market is still unregulated, so it can be challenging to know exactly what you are getting when you buy CBD. That is why we post the test results for all of our products, including our CBD mints. We want you to be confident that you are getting the CBD quantities on the label without any dangerous pesticides or chemicals.
WHAT TO EXPECT WITH OUR CBD MINTS
The first thing you will notice when you pop one of these CBD mints in your mouth is a strong, delicious peppermint flavor. Concerned about bad breath? It's taken care of with our peppermint mints. Take your time to suck on the mint and try to resist the urge to crunch it up and swallow it. The longer you suck on it, the more CBD you will absorb through the soft palate of your mouth and the more effective it will be.After finishing the mint, it is less about what you feel and more about what you don't feel anymore. You may notice a reduction in stress if you were feeling stressed. You may notice a reduction in discomfort or inflammation in your body if you were experiencing discomfort or inflammation. You may notice that you fall asleep faster and stay asleep longer if you take one before bed. If you don't notice these changes, we recommend taking 2-3 mints at a time. Often it takes 20-30mg of CBD (2-3 mints) to feel a difference. Since these mints are delicious and discreet, it is easy to take several while you are at the office or out and about your day.If you are looking for additional aids for managing stress, check out our full line of Relax CBD Products.
If you are looking for additional aids in reducing discomfort and inflammation, check out our full line of Relieve CBD Products, especially our Relieve CBD Gel.
If you are looking for additional aids for sleep, check out our full line of Rest CBD Products.
WILL THESE CBD MINTS MAKE ME HIGH?
Good news: our CBD mints will not make you high. The cannabinoid THC is what makes people feel high and Mission Farms Pure CBD Mints contain no THC. You don't have to worry about psychoactive effects or about failing a drug test. You can take these mints with peace of mind. If you are looking for other THC-Free products, try our THC-free Pure CBD Oil.
WHERE ARE CBD MINTS FOR SALE?
While CBD is growing in popularity, it can still be difficult to find CBD products in retail stores. This is especially true of CBD mints, which are quite rare. The best place to buy CBD mints is online, so you have come to the right place here at Mission Farms CBD! We store our CBD mints in ideal conditions and then ship them directly to your door. It is part of our farm-to-family commitment. You can save time and money by ordering directly from us, and your credit card information is always secure.
Subscribe & Save Information
Save 15% on your orders!
Save 15% on all items enrolled in auto-shipment.
Make life easy! We ship right to your door.
You are in control!
Choose how often you receive your delivery – Every 1, 2, or 3 months.
Move your auto-shipment sooner, if you are running out.
You can cancel your auto-shipments at any time.
Note that coupons cannot be added to the 15% savings you already receive in auto-shipments. Promotion and terms are subject to change.

This product is not for use by or sale to persons under the age of 18. The statements on this website have not been evaluated by the Food and Drug Administration.
These products are not intended to diagnose, treat, cure, or prevent any disease. The claims are based on the personal experiences of our customers.