FEEL GOOD WITH PURE CBD PEPPERMINT MINTS
Pure CBD Peppermint Mints
Our new Pure CBD Mints in Peppermint are the best way to take CBD with you anytime, anywhere! With 10mg of CBD per mint, these refreshing Mints will boost your well-being throughout the day.  And they are THC-Free!
These CBD Mints are:
Up to 5x more effective than CBD gummies
Discreet and easy-to-carry
Free from THC, per lab testing
A refreshing peppermint flavor
Great for the office, car, purse, or on-the-go
Available in two sizes:
Full-size (300mg CBD), 30 Mints
Trial-size (100mg CBD), 10 Mints
Save 15% with Subscribe and Save:
Get full-size Peppermint Mints auto-shipped!
Choose every 1, 2, or 3 months.
Save 15% and make life easier!
Peppermint CBD Mints
10mg CBD per Mint
Subscribe and Save 15%
on Full-size Peppermint CBD Mints
Make Life Easy with Auto-shipments Learn More
ENHANCE YOUR WELLNESS WITH OUR PEPPERMINT CBD MINTS
We are thrilled to introduce our new Pure CBD Mints in a refreshing Peppermint flavor. Our team at Mission Farms has spent months in our labs perfecting the delicious peppermint flavor while also eliminating any earthy aftertaste.  The result: a fabulous way for you to enjoy the taste of CBD while also giving your body the boost it needs! Oh, and as an added bonus, these Peppermint CBD Mints are THC-Free!
Feeling stressed in a meeting with the boss? Just pop in a Peppermint CBD Mint to calm your spirit.
Want to take CBD with you, but don't want to carry breakable CBD Oil?  Mints to the rescue.
Need a discreet way to have CBD when you need it, without making it obvious to others?  CBD Mints are the answer!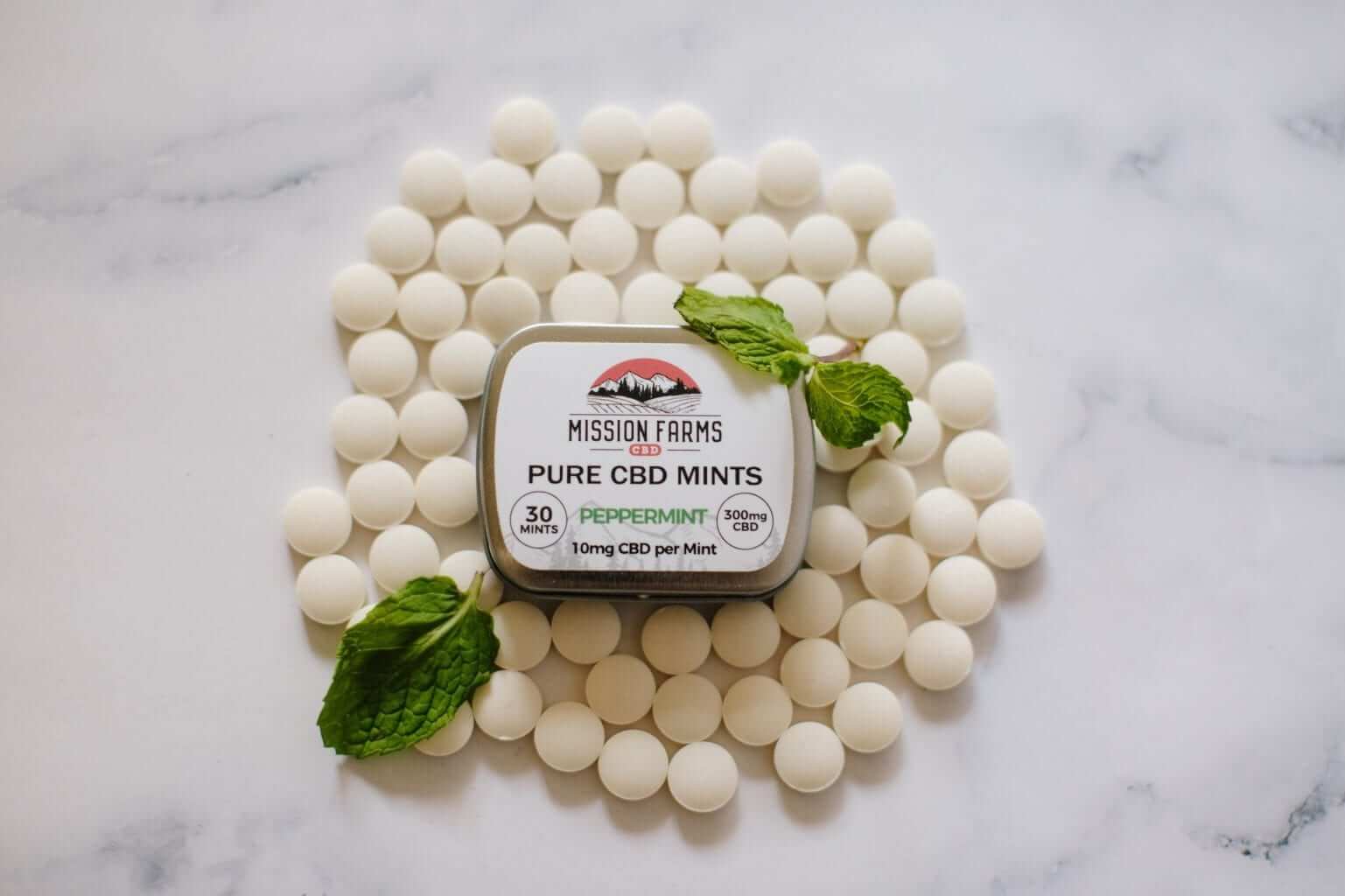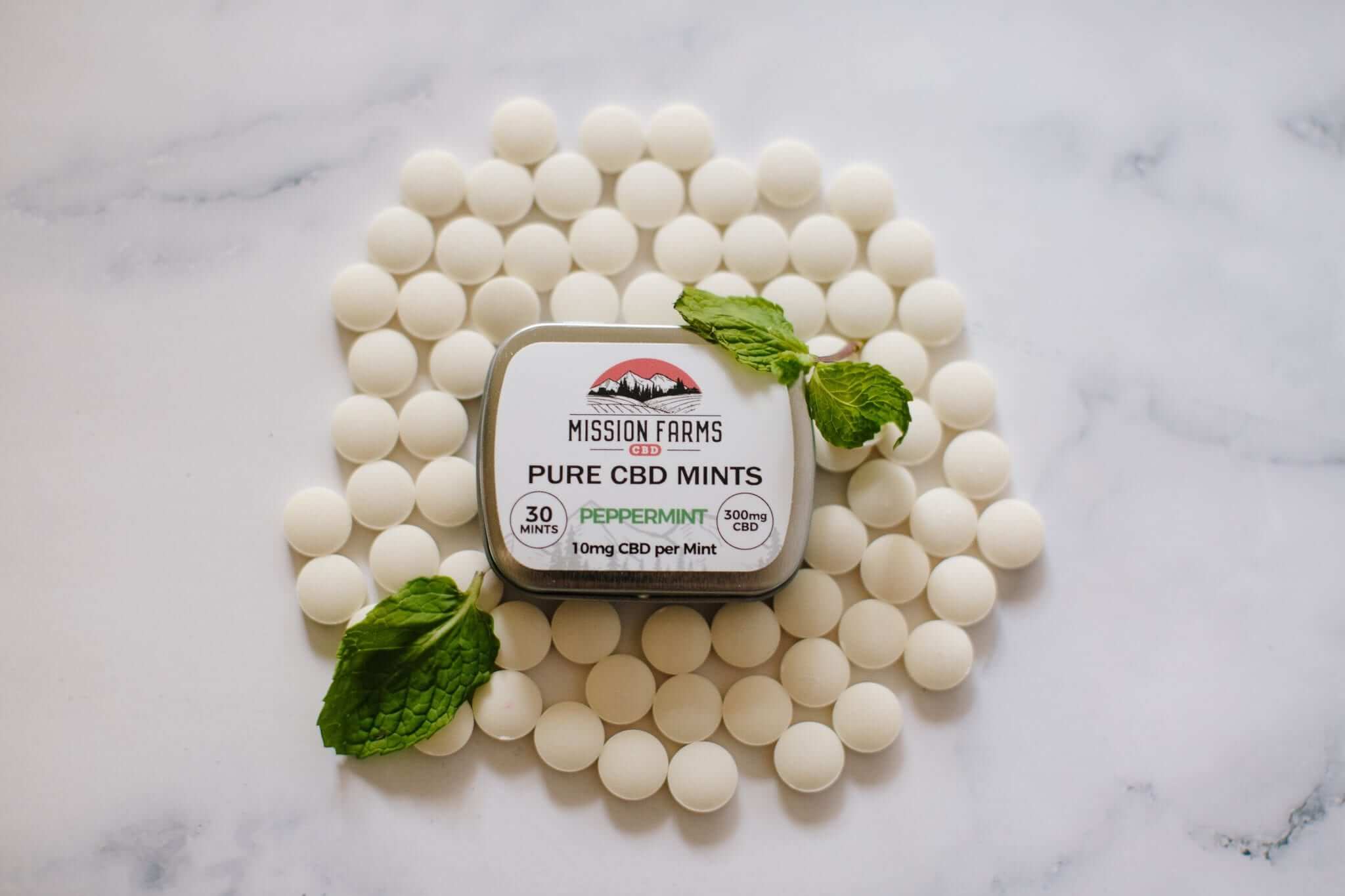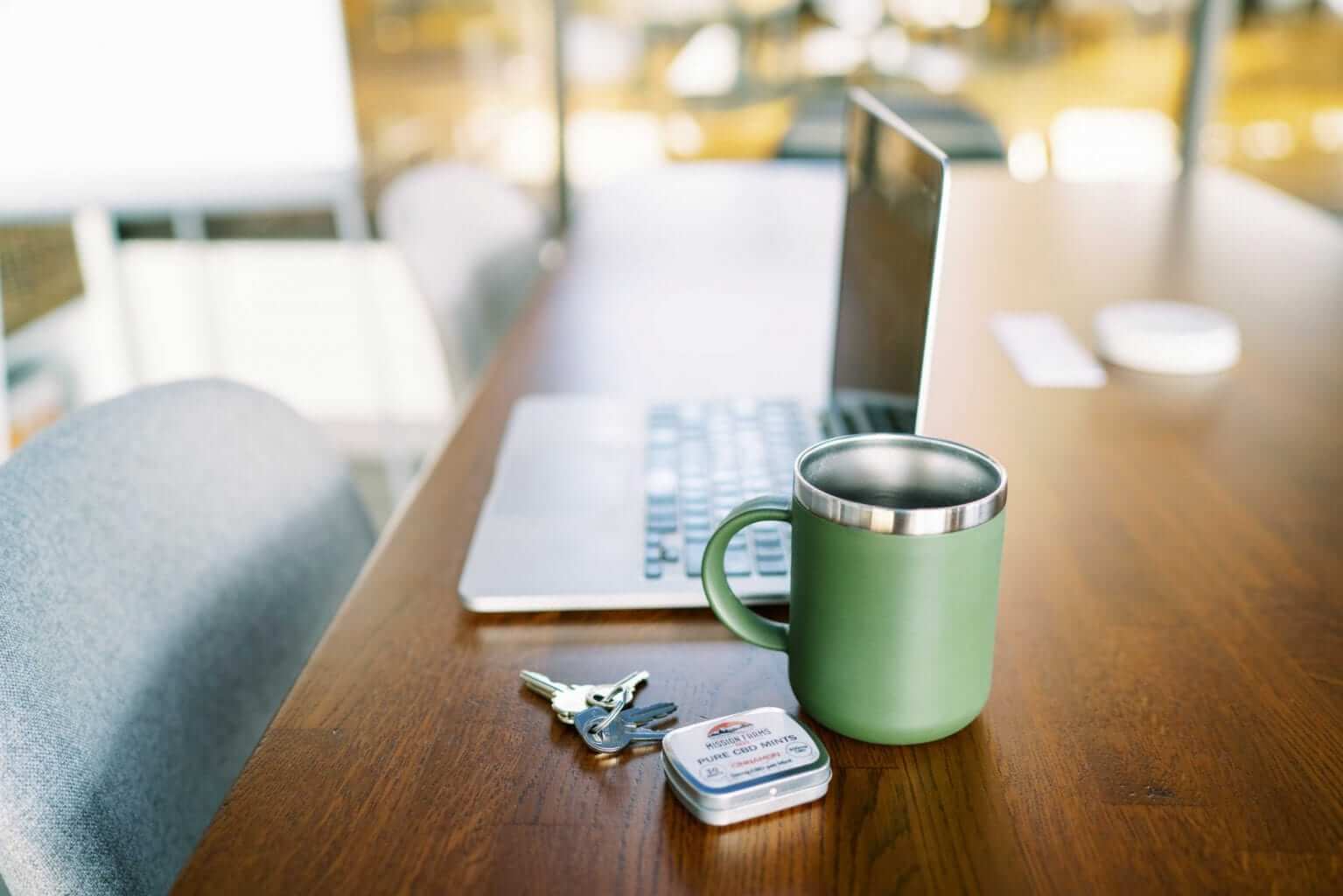 MORE BIOAVAILABLE THAN CBD GUMMIES
Our peppermint-flavored Pure CBD Mints are far more effective than CBD gummies. You will absorb up to five times the CBD with our mints than you will with any gummy or capsule.
There are different ways for our bodies to absorb CBD, which is known as "bioavailability." Medical research tells us that CBD is absorbed at a higher rate through the soft palate in our mouths than through our digestive system. This is why CBD Oils and CBD Mints have higher absorption rates than CBD gummies or capsules.
Pop our CBD mints in your mouth and you will enjoy a delicious flavor and your body will be absorbing the CBD far more effectively than if you swallowed a CBD gummy or capsule.
So make the switch away from CBD gummies today and see a 5x improvement in CBD absorption!
ENJOY PEACE OF MIND BY BEING THC-FREE
When creating these Peppermint CBD Mints, we use CBD Isolate, which means we add additional processing to remove the THC. Our third-party lab testing shows that THC levels are undetectable. This makes our THC-Free Peppermint CBD Mints an excellent choice for people who are in professions that have THC testing required.
Our all-natural THC-Free Peppermint CBD Mints can reduce inflammation and improve your mood, while also providing the peace of mind that you are not consuming THC. Give your wellness a boost and feel good again with THC-Free Peppermint CBD Mints!
If you would like to try Full-Spectrum CBD Mints, please shop our Cinnamon CBD Mints.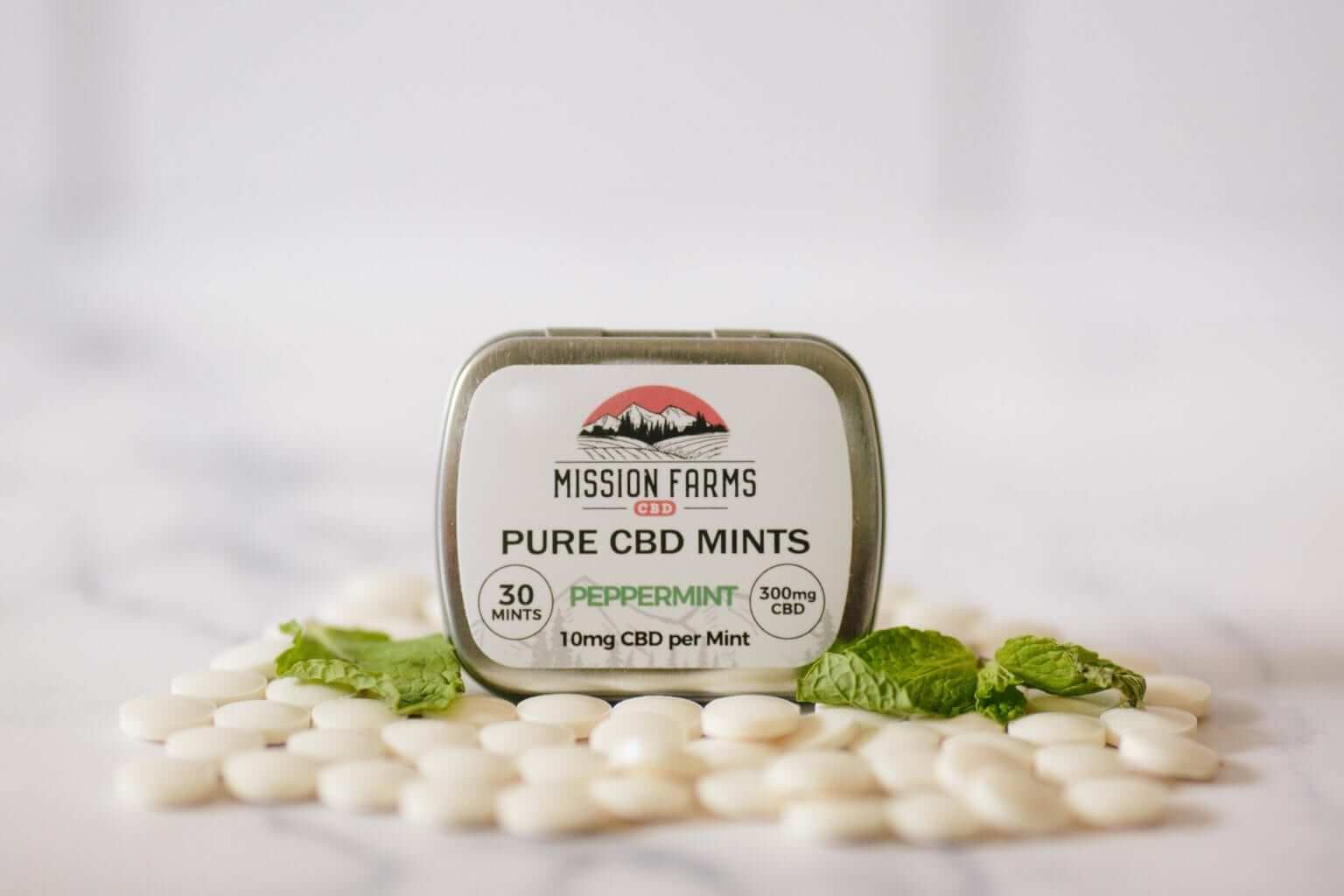 WHAT IS IN A TIN OF PEPPERMINT CBD MINTS:
KEY INGREDIENTS
Hemp Extract— Contains CBD isolate derived from Oregon-grown hemp. This has undergone additional processing to remove THC, so it is ideal for those in professions that have THC testing.
Organic Peppermint Flavoring: A perfect way to refresh your breath!
View our Third-party Lab Results for our Pure CBD Peppermint Mints.
ALL INGREDIENTS
Dextrose, Hemp Extract, Stearic Acid, Organic Peppermint Oil. Contains non-detectable THC, per third-party lab testing.
Note about Peppermint CBD Mint Label: These Peppermint CBD Mints are THC-Free. They are made with CBD Isolate that contains no detectable THC, per our lab tests (which you can view via the link above). The label on the mint tin says "Less than .3% THC" which is a labeling requirement to indicate that the product is federally legal.  
Your content goes here. Edit or remove this text inline or in the module Content settings. You can also style every aspect of this content in the module Design settings and even apply custom CSS to this text in the module Advanced settings.
INSTRUCTIONS FOR USE
Take a Peppermint CBD Mint anytime, anywhere. A recommended dose is two mints, but feel free to take several throughout the day.
The longer you are able to keep the Mints in your mouth, the more effective they are. The CBD is absorbed through your soft palate in your mouth, so try to let the Mint linger in your mouth, rather than chewing it quickly.
Enjoy refreshingly clean peppermint breath.
Subscribe & Save Information
Save 15% on your orders!
Save 15% on all items enrolled in auto-shipment.
Make life easy! We ship right to your door.
You are in control!
Choose how often you receive your delivery – Every 1, 2, or 3 months.
Move your auto-shipment sooner, if you are running out.
You can cancel your auto-shipments at any time.
Note that coupons cannot be added to the 15% savings you already receive in auto-shipments. Promotion and terms are subject to change.

This product is not for use by or sale to persons under the age of 18. The statements on this website have not been evaluated by the Food and Drug Administration.
These products are not intended to diagnose, treat, cure, or prevent any disease. The claims are based on the personal experiences of our customers.