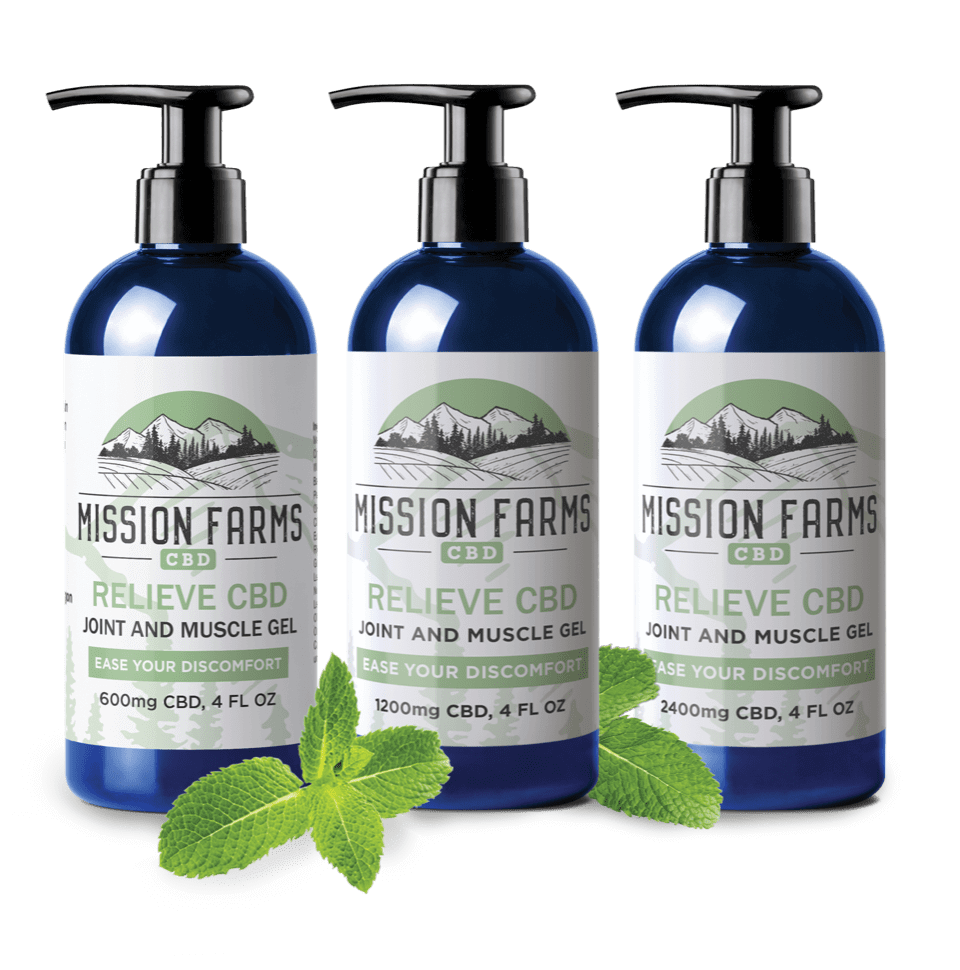 Our CBD Joint and Muscle Gel provides the one-two punch of quick comfort from the icy-hot sensation followed by a lasting reduction in discomfort and inflammation from our full-spectrum CBD.
And now with our extra-strength CBD Gel in both 1200mg and 2400mg options, your relief will be quicker and more long-lasting. Ease your discomfort with these stronger CBD concentrations that are more powerful and doubly effective!
Choose from these purchase options:
4 oz. Pump with 600mg CBD
4 oz. Pump with 1200mg CBD
4 oz. Pump with 2400mg CBD
Read our 4.9-star Customer Reviews below!
And now… Save 15% with Subscribe and Save!
Get 1200mg or 2400mg CBD Gel auto-shipped!
Choose every 1, 2, or 3 months.
Save 15% and make life easier!
Buy our 4 oz. CBD Gel Pump
Find stronger relief with our extra-strength CBD Gels
Our CBD Joint and Muscle Gel is a game-changer. Whether you are an athlete looking for a quick recovery from your workouts, an average-joe hoping to ease normal aches, or a mature adult seeking relief from the inflammation of arthritis — our CBD Joint and Muscle Gel will turn your "Ouch!" into "Ahhhhh."
Now we are offering our best-selling CBD Gel in even stronger CBD concentrations. Try it with 1200mg or 2400mg of CBD in a 4 ounce pump bottle. You'll find even stronger and faster relief with these extra-strength varieties.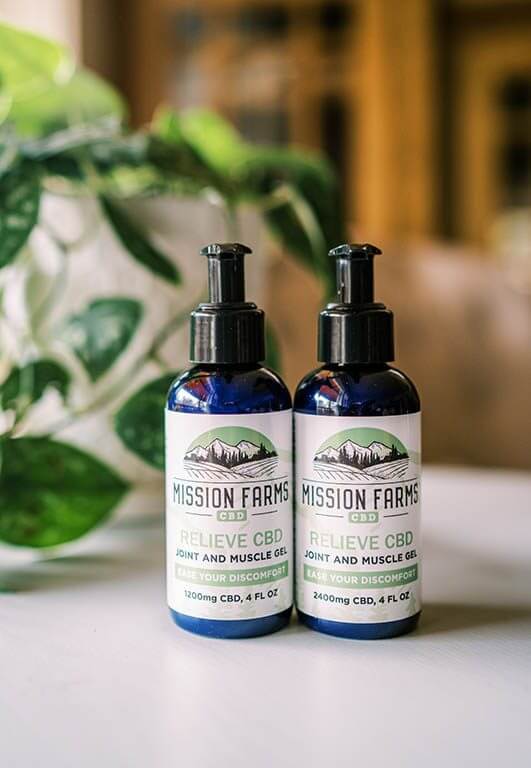 trusted product with 4.9-star reviews
Our Relieve CBD Joint and Muscle Gel is our best-selling product, earning 4.9-star Customer Reviews from verified buyers. Read the reviews below to hear stories of how this CBD Gel has offered relief in ways no other product can. Your body will feel young and new again after a daily regimen of our CBD Gel.
The cooling effect of this CBD Gel desensitizes your nerves then the warming effect relaxes your muscles. Our award-winning, full-spectrum CBD then goes to work easing discomfort and inflammation for hours to come. We can't wait for you to feel good again.
Now we also offer our Subscribe and Save auto-ship program for our CBD Gel! It's an easy way to save both time and money by having our products delievered right to your door every 1, 2, or 3 months! Enroll above. 
Powerful and effective CBD
The effectiveness of CBD is backed by science.
CBD has the ability to bond to the pain receptors in your cells, increasing the availability of anandamide — the chemical your body naturally produces to give you the feeling of a "runner's high." Apply our Joint and Muscle Gel to the problem areas and you will feel good again, all-naturally.
It gets better… with Mission Farms CBD, you're not just easing symptoms, you're getting to the source of the problem. Our full-spectrum CBD combats inflammation and an over-active immune response to your inflamed joints and muscles. It prevents your body from over-reacting to damage.
Now with our extra-strength 1200mg and 2400mg CBD Gel pump bottles, your relief will be even stronger and faster. Try these stronger CBD concentrations that are even more effective!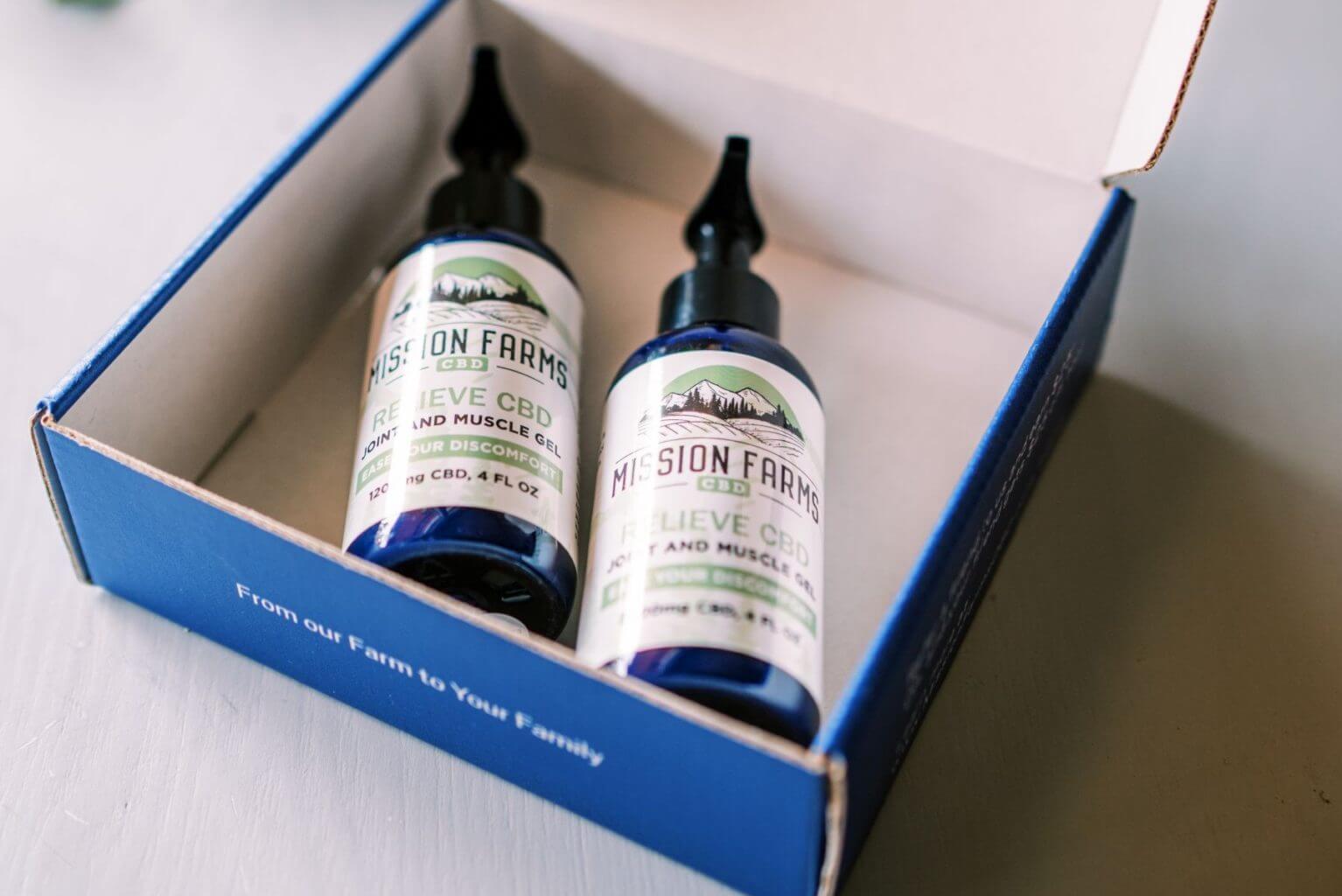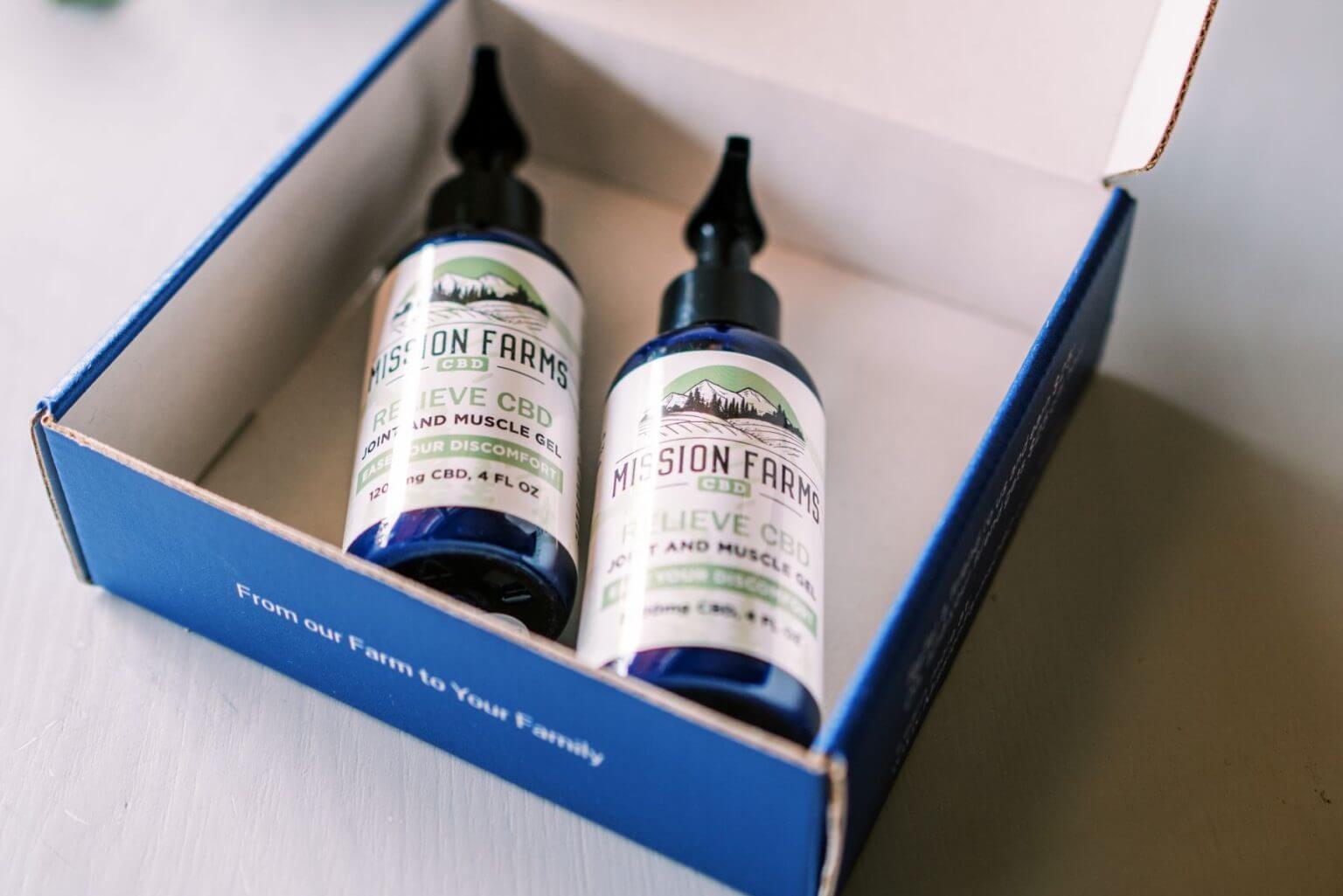 Key Ingredients:
Whole Hemp Extract: Premium, full-spectrum CBD straight from our farms
Organic Aloe Leaf Juice: Soothing, cooling and full of antioxidants
Spearmint, Peppermint, Grapefruit Peel, and Pine Needle Essential Oil: Contains the terpene Limonene which elevates the mood and decreases inflammation.
Rosemary and Sweet Basil Essential Oil: Contains the terpene Alpha Pinene, which is known to ease discomfort and inflammation.
Black Pepper Essential Oil: Contains the terpene Beta-Caryophyllene, which is known to ease discomfort.
Eucalyptus Essential Oil: Contains the terpene Eucalyptol which is known to reduce inflammation.
Capiscum and Camphor Essential Oil: Creates a warming sensation that relaxes muscles.
All Ingredients:
Organic Aloe Leaf Juice, Meadowfoam Seed Oil, Menthol Crystals, Capsicum Fruit Oleoresin, Whole Hemp Extract, White Camphor Bark Oil, Sweet Basil Leaf Oil, Black Pepper Oil, Roman Chamomile Flower Oil, German Chamomile Flower Oil, Cinnamon Leaf Oil, Citronella Oil, Eucalyptus Leaf Oil, Helichrysum Flower Oil, Ginger Root Oil, Pink Grapefruit Peel Oil, Juniper Berry Oil, Lemongrass Oil, Peppermint Oil, Pine Needle Oil, Ravensara Oil, Rosemary Leaf Oil, Spearmint Oil, Wild Oregano Oil, Glycerin, Witch Hazel Water, Organic Alcohol, Phenoxyethanol, Carbomer, Triethanolamine, Tetrasodium Glutamate Diacetate
Instructions for Use:
Massage a small amount into sore muscles or joints. Repeat as needed.
The Best CBD Rub
CBD topicals are a great way to experience all the benefits of CBD with a simple application to your sore muscles and joints. There are a variety of CBD topicals available on the market, but our CBD rub is widely considered the most effective CBD topical available today. We consistently hear from customers that it provides the fastest, longest-lasting relief. Don't believe us? Read the hundreds of 5-star reviews. 
And unlike many topical CBD products, our CBD rub is made with all-natural ingredients. You won't find ingredients that look like they must have been made in Frankenstein's lab. The base ingredient is organic aloe leaf juice, which is known for its soothing properties. It also contains a wide variety of essential oils known for their healing properties and wonderful aroma. Capiscum and Camphor essential oil create a warming sensation. Spearmint, Peppermint, Eucalyptus and Menthol create a cooling sensation. The result is a CBD cooling and warming gel. Your muscles and joints are naturally relaxed and ready for the CBD to do its powerful work at easing discomfort and reducing swelling. CBD works wonders on its own. But a gel that also has a CBD cooling and warming effect is an added bonus. We guarantee that it's the best topical CBD product you will ever try. 
CBD For Sore Muscles and Joints
Many people wonder if they can use CBD for sore muscles and joints. The answer is a resounding "Yes!". After exercising rub our CBD gel wherever you are sore and you will quickly experience relief. If you experience pain or swelling in your joints due to exercise or other conditions, gently massage our CBD gel into those joints and you will not only feel better, you will likely have an increased range of motion. Our CBD gel is a powerful anti-inflammatory in addition to easing discomfort. 
Our home is in Bend, Oregon. Not only is it the best hemp-growing region in the world, it is known for its active lifestyle. You may have noticed from the photos that the founders of Mission Farms CBD aren't, well, as young and spry as they used to be. But we still love to enjoy the beautiful Cascade mountains with their lakes, streams and trails. Mountain biking, hiking, skiing, fishing, and exploring are passions of ours. That means bumps, bruises and sore muscles. We each have several bottles of CBD gel at the ready so we can recover quickly–one in the medicine cabinet, one in the car, one at the office. It helps us stay active and enjoy being active!
Several of us also have parents with severe arthritis. Honestly, our CBD gel is probably appreciated even more by them. It has given them the ability to enjoy their daily activities without the constant distraction of aches and pains. Our parents loved the 300mg CBD gel. Then we released the 1200mg and 2400mg versions and the response was overwhelming. We are delighted to see them thriving in new ways.
How does CBD work?
Everyone of us has an endocannabinoid system. It is a body system that utilizes both the cannabinoids our bodies produce (endocannabinoids) and the cannabinoids produced by hemp (phytocannabinoids), in order to help the rest of our body systems function optimally. 
One of the ways CBD works is by interacting with a number of receptors in your body that modulate discomfort and inflammation. Have you ever heard of the "runners' high"? It's a feeling of pain-free bliss that runners and other athletes experience after extreme physical exertion. A chemical naturally produced by our bodies, called anandamide, is what eases discomfort. Well, CBD blocks the CB1 and CB2 receptors that absorb anandamide thereby increasing the body's supply of anandamide. The result is less discomfort and a greater sense of well-being. 
CBD also interacts with Serotonin receptors. Serotonin receptors are commonly known to impact mood, but they also play a role in pain perception. By increasing the availability of serotonin, CBD can help modulate both discomfort and mood in a beneficial way. 
Not only does CBD interact with pain receptors, it also reduces inflammation. A recent review of pre-clinical and animal studies confirms CBD's anti-inflammatory effects. CBD's powerful anti-inflammatory benefits make it an excellent treatment for injury, neuropathy (pinched or irritated nerves), arthritis, and many other conditions exacerbated by inflammation.
How do essential oils make CBD more effective?
If your CBD rub or CBD oil don't also contain essential oils, you aren't getting the most for your money. Why? Studies show that when CBD is used as an isolated compound, it isn't nearly as effective as when it is combined with other terpenes that work alongside the CBD. Essential oils are 98% terpenes. 
For our Relieve CBD products, we have selected essential oils comprised of terpenes that are known to work with CBD to help ease discomfort. The result is greater relief than you will get with CBD alone.
For example, the terpene Beta-Caryophyllene has been shown to reduce the perception of discomfort by acting upon the same CB receptors that CBD stimulates. The terpene Alpha-Pinene has shown promising results in reducing inflammation in cartilage in human studies. The terpene Humulene has been shown to reduce inflammation in various inflammatory experiments on mice. These terpenes, and others, work along with CBD to help reduce discomfort and inflammation. This is one of the key reasons why we include essential oils with these terpenes in our CBD gel. Simply put, it makes our CBD gel more effective. 
Where does CBD come from?
CBD is an all-natural compound found in the hemp plant. It isn't made in a lab; it is the product of soil, sunlight, water, and high-quality hemp plants. Our organic farms in Bend Oregon is the source of all the CBD that goes into our products. The hemp is cold-processed into CBD oil, which we add into our gel. So this essentially a CBD oil gel, or a hemp gel. You won't find a hemp gel as natural as this one!
Where Is The Best Place to Buy CBD Topicals?
There are not many physical stores where you can buy CBD gel. Few retail stores carry any CBD. The best place to buy CBD gel is right here, at Mission Farms CBD. We carry a variety of unique and effective CBD Creams you can buy online. We try to reduce costs by selling directly to our customers and provide the convenience of easy on-line ordering. We ship quickly to all 50 states so you can be assured that relief is on the way.
Money-Back Guarantee
Our CBD rub, along with all of our CBD products, come with a 30-day, money-back guarantee. Try our award-winning, five-star rated CBD topical without fear. If you don't feel the difference, we will give you your money back. Come to think of it… I don't believe any customer has ever returned our CBD Gel. I guess that's how good it is! But we stand by our promise and will refund your money if you aren't satisfied. 
Subscribe & Save Information
Save 15% on your orders!
Save 15% on all items enrolled in auto-shipment.
Make life easy! We ship right to your door.
You are in control!
Choose how often you receive your delivery – Every 1, 2, or 3 months.
Move your auto-shipment sooner, if you are running out.
You can cancel your auto-shipments at any time.
Note that coupons cannot be added to the 15% savings you already receive in auto-shipments. Promotion and terms are subject to change.

This product is not for use by or sale to persons under the age of 18. The statements on this website have not been evaluated by the Food and Drug Administration.
These products are not intended to diagnose, treat, cure, or prevent any disease. The claims are based on the personal experiences of our customers.