Pure CBD Softgels
$109.00 – $179.00
An easy-to-take capsule that combines organically-farmed, Full Spectrum CBD with multiple terpenes for exceptionally strong, long-lasting relief from discomfort, stress and sleeplessness.
With 50mg CBD in each capsule, these ultra strength softgels are among the most powerful on the market – and your ultimate solution for daily wellness.
50mg CBD per softgel; 60ct per bottle; 3000mg CBD per bottle
Terpenes: d-Limonene, Myrcene, Beta-Caryophyllene
Purity You Can Trust. See Our Lab Results
Description
CBD SOFTGELS FOR POWERFUL DAILY RELIEF
These Full Spectrum softgels are the highest strength softgels available. With 100mg of Full Spectrum CBD from our premium, organically-farmed hemp, they will provide you with the relief. Whether you are looking for relief from discomfort, stress, or sleepless nights, these CBD Softgels will help you feel good again for hours, without any intoxicating effects.
Many people who have tried CBD but have not experienced the full benefits they were hoping for, simply are not taking enough milligrams of CBD. The reality is that it is safe to take hundreds of milligrams of CBD a day without risk.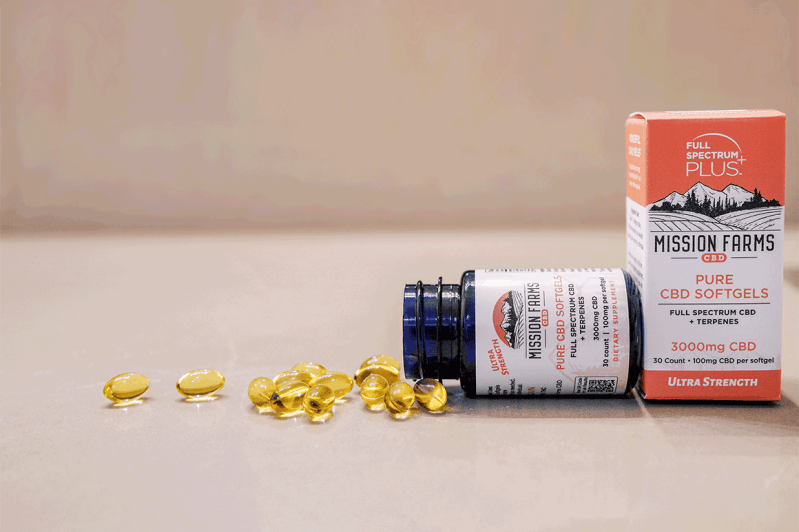 TERPENES: MORE EFFECTIVE THAN CBD ALONE
Creating one of the most effective CBD Softgels on the market could have been as simple as adding more milligrams of the most effective type of CBD: Full Spectrum CBD. But we decided to take it a step further. We added additional terpenes to the Softgels to make them even more effective.
Terpenes are all-natural, organic compounds found in the hemp plant. Our body's endocannabinoid system utilizes terpenes as well as cannabinoids like CBD to ease discomfort, calm stress, and deepen sleep. The reason we add essential oils to many of our products is because essential oils are primarily terpenes. With these CBD Softgels we have added three terpenes that increase the effectiveness of the CBD: d-Limonene, Myrcene, and Beta-Caryophylene.
Myrcene – Increases the absorption of CBD and eases discomfort and inflammation
d-Limonene – antioxidant that elevates mood and decreases inflammation
Beta-Caryophyllene – eases anxiety, discomfort, and inflammation
A HASSLE-FREE WAY TO TAKE CBD
Softgels have several benefits that make them appealing. Firstly, they have no flavor. Some people find the flavor of hemp extract off-putting. Secondly, dosing is easy with Softgels. With each softgel you know you are getting 50mg of CBD. The dropper for dosing CBD oils is not as exact. Thirdly, softgels are easier to swallow than capsules. They have a soft, gelatin exterior and are smaller than most over-the-counter pain-killers.
Additional Product Information
Additional information
| | |
| --- | --- |
| Weight | N/A |
| Dimensions | N/A |
| Size | 1 Bottle: 3000mg CBD, 60 count, 2-Pack Bundle |