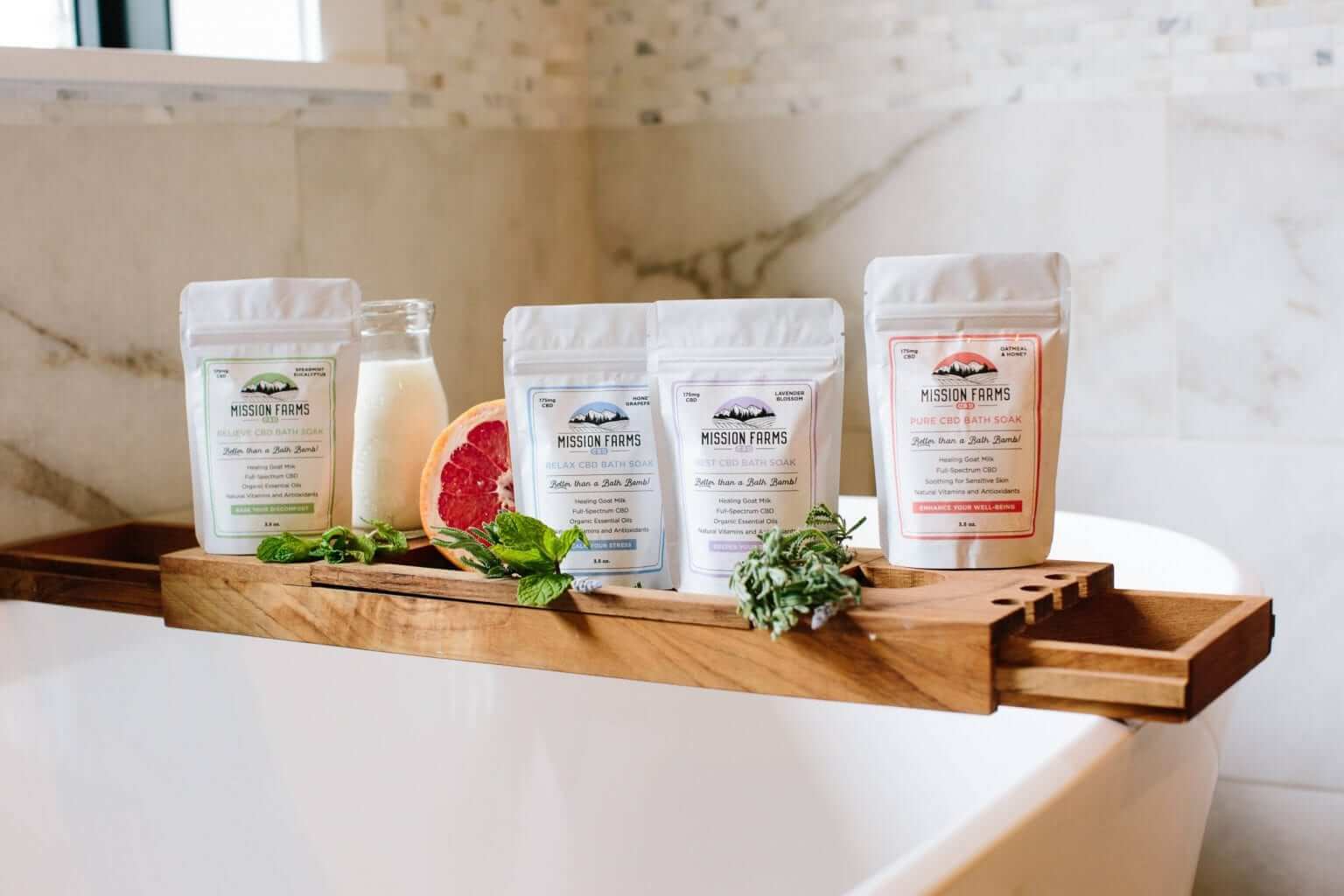 It's Better than a Bath Bomb! 
Our all-natural CBD Bath Soaks are loaded with goat milk, healing essential oils, and full-spectrum CBD. Add a handful of the CBD Bath Soak to a hot bath, then enjoy spa-like luxury in your own home. Emerge from your bath with deeply moisturized skin, soothed muscles, and a renewed spirit!
And now we offer our CBD Bath Soaks in two sizes! Try our NEW 3.5 ounce bags… they are the same great product, just with a new look! It's the equivalent amount of full-spectrum CBD per serving as in our 7 ounce containers.
Our new 3.5 ounce CBD Bath Soak bags are friendlier for the planet, a better shape and size for gifting, easier for travel, and more affordable for first-time users. Enjoy our new CBD Bath Soak bags in all four varieties!
GOAT MILK FOR LUXURIOUS SKIN
Goat milk is fantastic for our skin, which is why it's in our CBD Bath Soaks.
It has a high concentration of Vitamin A, which studies show helps to relieve ezcema, psoriasis, dry skin, age lines, and even acne. Goat milk also offers additional Vitamin D, E, and K, which also provide intense hydration.
Goat Milk is very high in MCT (medium chain triglycerides). This MCT bonds well with CBD, which means that the MCT will help your body to absorb the CBD in a deeper and faster way, delivering CBD to tense muscles quickly.
Lastly, goat milk is also high in alpha-hydroxy acid, which helps to exfoliate dead skin cells by attacking the glue that holds them together. The result: new, brighter skin!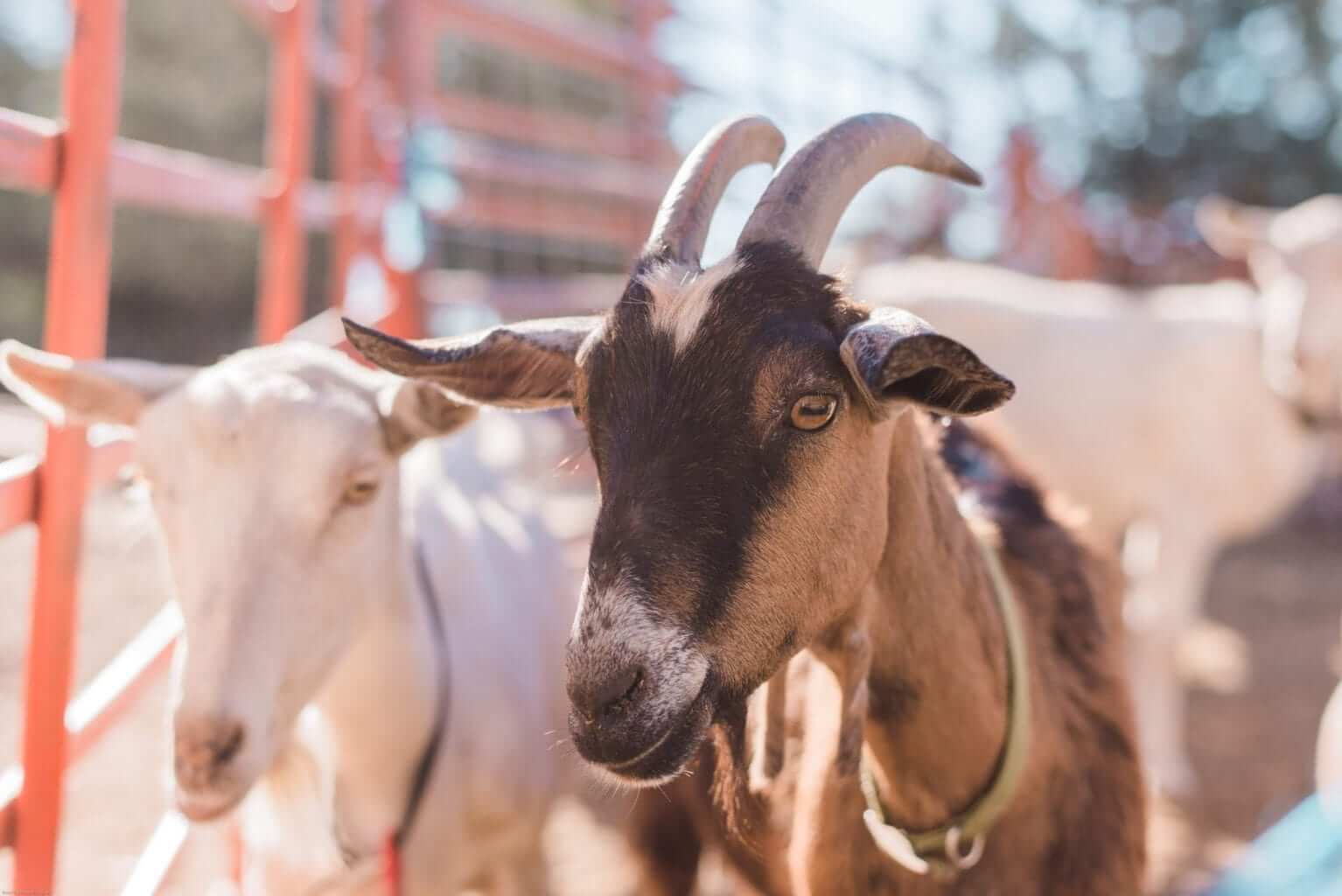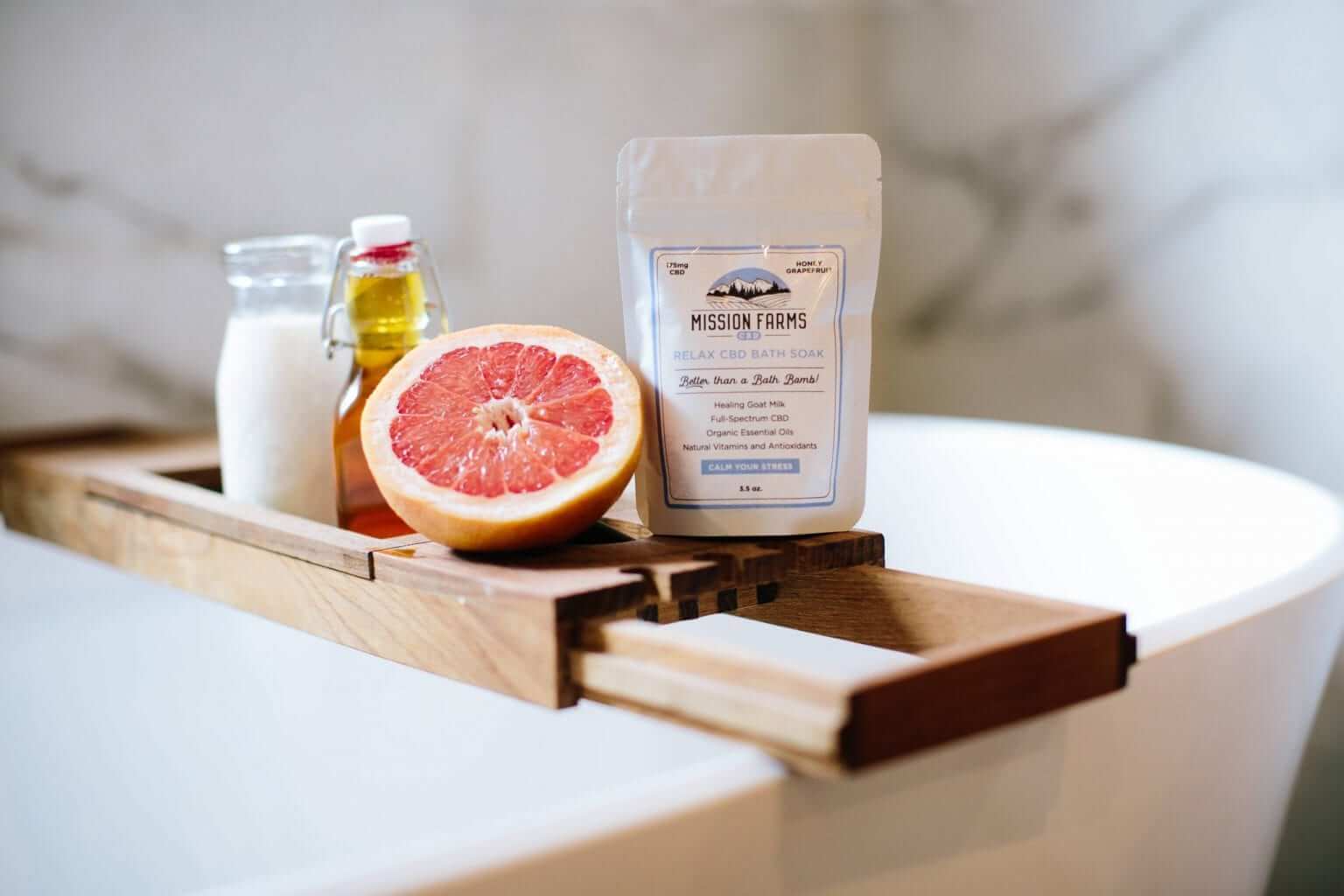 Crafted for Specific Conditions
As always, we at Mission Farms CBD craft our products to treat your specific conditions. Each CBD Bath Soak has additional essential oils that help target and magnify the effect of our full-spectrum CBD.
Rest CBD Bath Soak has lavender to prepare your body for sleep.
Relax CBD Bath Soak has grapefruit and ylang ylang to relax your nervous system.
Relieve CBD Bath Soak has spearmint and eucalyptus to ease discomfort and reduce inflammation.
Pure CBD Bath Soak has honey and oatmeal for extra-sensitive skin.
It's better than a Bath Bomb!
All-Natural, All the Time
Your skin is your body's largest organ. What goes on your skin goes in your body.
That's why our CBD Goat Milk Soaks are 100% natural. No chemicals, dyes, parabens, or anything artificial.
What's in our CBD Bath Soaks?
Fresh, Raw Goat's Milk: Naturally exfoliates and supports healthy skin renewal
Coconut Oil: Extremely moisturizing and softening
Olive Oil: Loaded with the vitamins your skin craves
Palm Oil: Has antioxidants that combat and reverse harmful UV skin damage
Whole Hemp Extract: Premium organically-farmed, full-spectrum CBD straight from our farms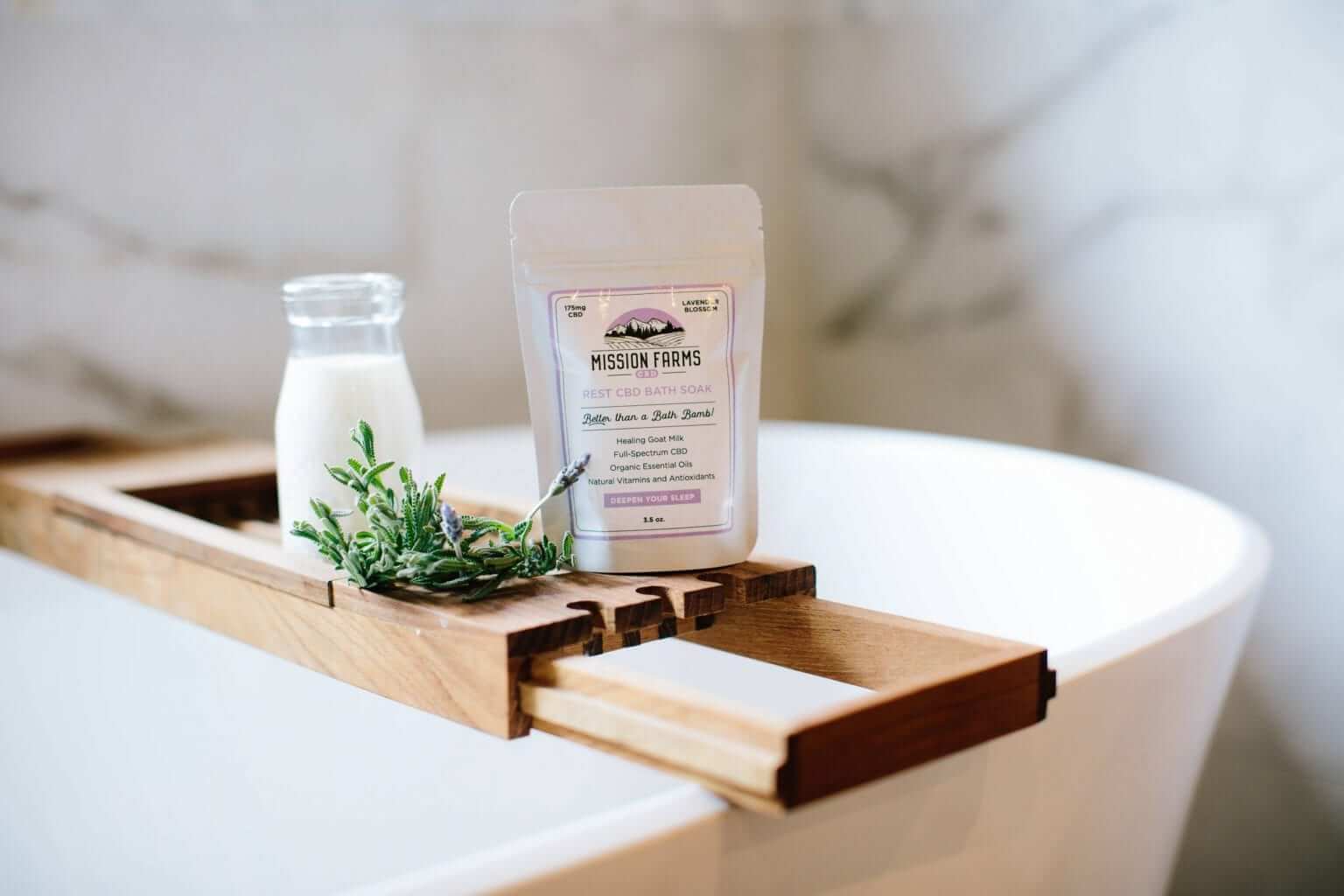 Why are Mission Farms CBD Bath Soaks the best bath bomb?
A CBD BATH BOMB THAT'S SIMPLY BETTER
We didn't want to take the easy way out when creating a CBD bath bomb. It's simple to create a CBD bath bomb that's colorful and smells nice. But when you care about your health, you don't want to soak in dangerous dyes and artificial fragrances. Fizz can be fun, but what about nourishing your skin with natural vitamins and oils?
We set out to create a CBD-infused bath bomb that used only natural, skin-loving ingredients. If you are going to take a CBD soak, why not choose a product that has many benefits besides CBD?
We started with the full-spectrum CBD distillate from our hemp farms in Bend, Oregon. We grow organic hemp in rich, volcanic soil in the high desert of central Oregon. The result is hemp that is not only rich in CBD, but also other healthy cannabinoids, nutrients, and fatty acids. We test the soil, test the hemp, test the hemp extract, then test the hemp bath bombs to ensure that we provide our customers with a pure, healthy product that has no chemicals, pesticides, or solvents.
We then contacted a local goat milk farm. Goat milk is known as a super ingredient for skin. It is rich in vitamins and intensely hydrates skin. It also is higher in MCTs than any other milk, which makes the CBD absorb more quickly into your skin. We wanted these CBD oil bath bombs to deliver the CBD to where you need it most.
Next, we added a rich blend of coconut oil, olive oil, and palm oil to nourish and moisturize your skin. When you emerge from the CBD bath you don't need to take the extra step of applying moisturizer. Your skin is already moisturized with the all-natural oils and goat milk.
Finally, we added fragrance with all-natural, essential oils. You won't find any synthetic fragrances in our CBD bath bombs. The essential oils are derived directly from plants whose properties not only nourish skin, but help with sleep, stress, and inflammation.
Will you miss the bubbles, bright colors, and strong fragrances? We don't think so. In fact, we are so confident that you will slip into a state of bliss that we offer a 30-day satisfaction guarantee. Once people try our CBD Bath Soaks, they don't go back to their cheap bath bombs.
CBD BATH PRODUCTS YOU WILL LOVE
There are many CBD companies, but few make high-quality bath products. They are focused on the CBD and don't care about the other ingredients. At Mission Farms, we not only produce the highest quality hemp extract, we are committed to using the highest quality ingredients when crafting our products. With Mission Farms, you don't just get great CBD bombs, you can enjoy a full spa experience with our other CBD bath products.
Goat Milk CBD Creams — When you emerge from your Goat Milk and CBD bath, reach for one of our CBD Creams. We have a cream that complements each CBD infused bath bomb with a similar blend of essential oils. You will love how quickly this CBD topical absorbs into your skin.
Goat Milk CBD Soap — If you don't take a bath everyday, you can still get all the benefits of our CBD and goat milk with our soap. We always have a "buy two, get one free" sale going, so pick up three different scents today.
WHERE CAN I FIND CBD BATH BOMBS FOR SALE?
CBD products are still difficult to find in retail stores. Good luck finding a high-quality goat milk and CBD bath bomb like we craft at Mission Farms when you stroll into a grocery store. Our CBD bath products are one-of-a-kind. The best place to get them is right here! We have a secure online ordering process, and once you've placed your order we ship your products right to your door. This enables us to store our products in ideal conditions while saving you time and money.
WHAT'S THAT IN MY TUB?
After taking a bath in one of our CBD Bath Soaks, you may notice a line where the water's edge met the tub. Is that soap scum? Actually, it's primarily skin cells. Goat Milk is high in alpha-hydroxy acid which is a gentle exfoliant. As you soak in our CBD bath the alpha-hydroxy acid exfoliates your skin, removing dead skin cells so the bright new skin emerges from below. Some of those skin cells cling to the side of the tub. Simply take a wash cloth and wipe the rim of your tub when you are done with your bath. It takes an extra minute, but it's a small reminder that you have healthier, brighter skin as a result of your spa experience.

This product is not for use by or sale to persons under the age of 18. The statements on this website have not been evaluated by the Food and Drug Administration.
These products are not intended to diagnose, treat, cure, or prevent any disease. The claims are based on the personal experiences of our customers.