#1 Product for Fast Relief Without Harmful Pain-Killers
FREE Travel Size CBD Gel, just pay shipping
+ Guide: The Science Behind CBD: The Secret to Staying Active and Feeling Great without Dangerous Pain-Killers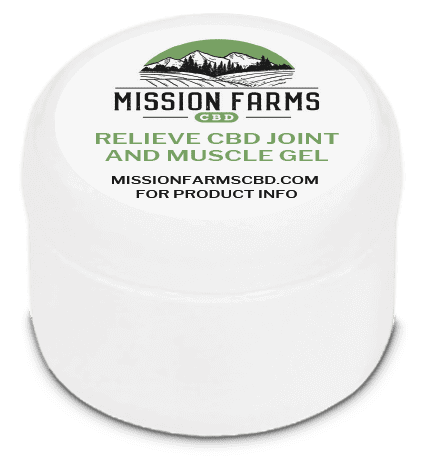 I was a total skeptic until I rubbed Joint and Muscle Gel on my mom's arthritic shoulders . . .
I'm Jackie and I'm one of the cofounders of Mission Farms CBD. You probably think I was a CBD-Believer from the start. But I wasn't. I'm a skeptic by nature. I need proof. That is true of CBD as well. It took a lot of proof for me to finally realize the amazing difference that CBD was making in my life and in my family.
One of those moments that turned me from skeptic to believer was the afternoon I rubbed Mission Farms CBD Joint and Muscle Gel on my mom's arthritic shoulders . . . My mom has debilitating arthritis in her shoulders. She can't even lift her arms above shoulder-height. The pain and stiffness is too great. Not only is she limited in everyday tasks like reaching to grab a glass from the cupboard, but she misses out on fun family activities like playing catch with the grandkids. Pain robs us all of the simple joys in life. 
Sure, there are pain-killers like ibuprofen. And she reluctantly used them, knowing they weren't good for her liver. They helped the pain a little. But not much. She felt stuck. Arthritis was winning, and there wasn't much she could do about it. But everything changed one afternoon . . . My mom was visiting shortly after I had just received an early version of the Relieve CBD Joint and Muscle Gel we were developing at Mission Farms. "Here's a chance to see if it makes any difference," I thought to myself, not expecting much. After all, my mom has pretty severe arthritic pain. I rubbed the Relieve CBD Joint and Muscle Gel into her shoulders and she walked out of the room.
You won't believe what happened next . . . About 20 minutes later my mom walked back into the room. And guess what? She had her hands raised above her head! Literally . . . she walked into the room with her hands raised above her head. My jaw dropped. We were both dumbfounded.  That's when my mom became a Mission Farm's fan-for-life and daily user of our Relieve CBD Joint and Muscle Gel. She tells all her friends about it! And of course, I called Ben, our CEO, right away to tell him how well the new CBD Gel worked. If it helped my mom that much, it could help thousands of others! I became a believer that day. And I still am. 
Every day we hear from customers whose lives have dramatically improved because of this wonderful aloe-based, CBD gel.  We are so confident it will help you — and we do want to help you! — that we are offering it for free. It is our #1 selling product for a reason.  Athletes love it, pre and post-workout. Middle-age folks like me love it for everyday aches and pains. And my mom's generation loves it because it keeps them active and feeling great.
We are confident you will love it too.
Review by Susan A. on 27 Apr 2020
Aches and pains of aging are not fun. I'm allergic to nsaid products and Tylenol just doesn't cut it. I've used the gel for my neck, shoulders and knee. It's like magic! My daughter suggested it and I must say I was skeptical but no longer. Don't think I can live without this!
Review by Mary D. on 15 Apr 2020
I tried the Joint and Muscle gel a few months ago for a new diagnosis of arthritis. It is a great relief at the end of the day when my hands and wrists ache! Very smooth and smells great! Thank you!!
Review by Sherry T. on 14 Apr 2020
My husband has severe neck and shoulder issues. The gel is perfect for applying it himself and it works well for him. I have fibromyalgia and have used it for fibro pain for relief. I also suffer some occasional mild arthritis in a couple fingers and it relieves that pain after a flare up.