#1 Product for Fast Relief Without Pain-Killers
FREE Travel Size CBD Gel
* just pay shipping
+ Free E-Book:
The Science Behind CBD
The Secret to Solving Pain, Sleep, and Anxiety Issues without Dangerous Pain-Killers.
"I was a total skeptic until I rubbed Joint and Muscle Gel on my mom's arthritic shoulders . . ."
I'm Jackie and I'm one of the cofounders of Mission Farms CBD. You probably think I was a CBD-Believer from the start. But I wasn't. 
I'm a skeptic by nature. I need proof. 
That is true of CBD as well. It took a lot of proof for me to finally realize the amazing difference that CBD was making in my life and in my family.
One of those moments that turned me from skeptic to believer was the afternoon I rubbed Mission Farms CBD Joint and Muscle Gel on my mom's arthritic shoulders . . .
My mom has debilitating arthritis in her shoulders. She can't even lift her arms above shoulder-height. The pain and stiffness are too great.
Not only is she limited in everyday tasks like reaching to grab a glass from the cupboard, but she misses out on fun family activities like playing catch with the grandkids.
Pain robs us all of the simple joys in life. 
Sure, there are pain-killers like ibuprofen. And she reluctantly used them, knowing they weren't good for her liver. They helped the pain a little. But not much. 
She felt stuck. Arthritis was winning, and there wasn't much she could do about it.
But everything changed one afternoon . . .
My mom was visiting shortly after I had just received an early version of the Relieve CBD Joint and Muscle Gel we were developing at Mission Farms.
"Here's a chance to see if it makes any difference," I thought to myself, not expecting much. Afterall, my mom has pretty severe arthritic pain.
I rubbed the Relieve CBD Joint and Muscle Gel into her shoulders and she walked out of the room.
You won't believe what happened next . . .
About 20 minutes later my mom walked back into the room. And guess what?
She had her hands raised above her head!
Literally . . . she walked into the room with her hands raised above her head.
My jaw dropped.
We were both dumbfounded. 
That's when my mom became a Mission Farm's fan-for-life and daily user of our Relieve CBD Joint and Muscle Gel. She tells all her friends about it!
And of course, I called Ben, our CEO, right away to tell him how well the new CBD Gel worked. If it helped my mom that much, it could help thousands of others!
I became a believer that day. And I still am. 
Every day we hear from customers whose lives have dramatically improved because of this wonderful aloe-based, CBD gel. 
We are so confident it will help you — and we do want to help you! — that we are offering it for free. 
It is our #1 selling product for a reason. 
Athletes love it, post-workout. 
Middle-age folks like me love it for everyday aches and pains.
And my mom's generation loves it because it keeps them active and feeling great.
We are confident you will love it too.
Jackie Lang
" I was a total skeptic until I rubbed Joint and Muscle Gel
on my mom's arthritic shoulders…"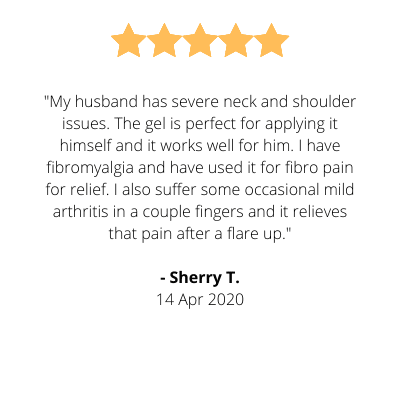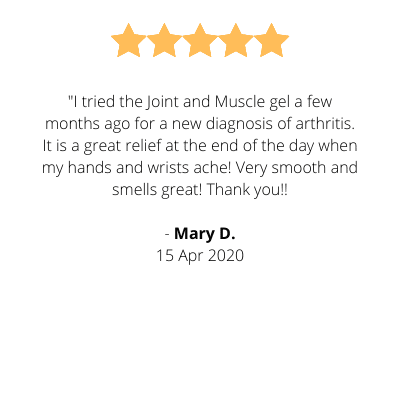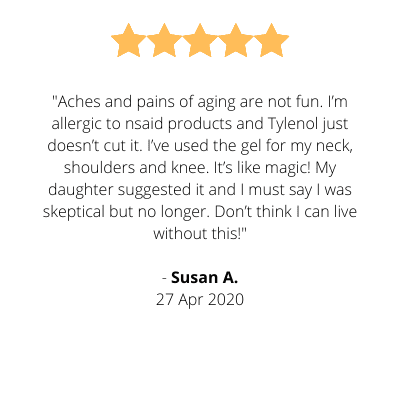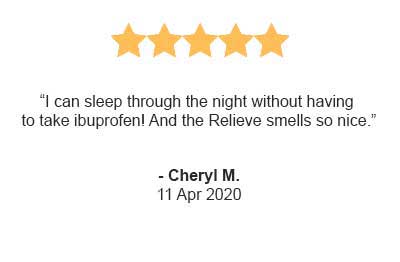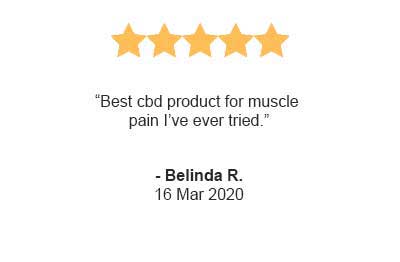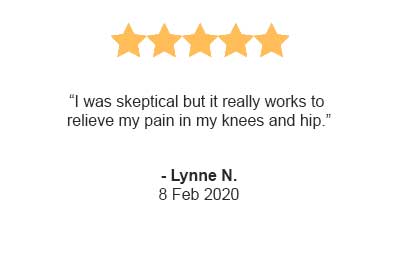 WHAT IS CBD?
CBD (cannabidiol) is an all-natural, organic compound found in hemp that has tremendous health benefits. It is one of the most promising organic compounds known to humans. Recent scientific and medical research is revealing its many benefits including treating discomfort, inflammation, stress, insomnia, irritated skin, and much more.
No, CBD does not get you high. Hemp is a relative of the cannabis plant, but it has very low amounts of THC, the compound that makes people feel high. In fact, hemp often contains 100 times less THC than marijuana. That means CBD provides health benefits without the high.
How Does CBD Ease Discomfort and Inflammation?
Ever heard of the "runner's high"?
It's the feeling of pain-free bliss a runner experiences when they have pushed themselves to the limit and the body is wearing down. The body naturally releases Anandamide,  a chemical that eases pain and reduces inflammation. It enables these runners to feel great, even after long distances.
Well, guess what . . .
CBD binds to pain receptors in your cells, increasing the availability of Anandamide, your body's natural pain-killer. Apply our Joint and Muscle Gel to the problem areas and you will feel good again, all-naturally.
It gets better. With Mission Farm's Relieve CBD Joint and Muscle Gel, you're not just easing symptoms, you're getting to the source of the problem. The CBD combats inflammation and an over-active immune response to your inflamed joints and muscles. It prevents your body from over-reacting to damage.
In simple terms, our Joint and Muscle Gel will get you on your feet and back in the game.
Learn more when you get our FREE BONUS E-BOOK:
THE SCIENCE BEHIND CBD: The Secret to Solving Pain, Sleep, and Anxiety Issues without Dangerous Pain-Killers.
69% of Other CBD Products Are Misleading
Beware of Fake CBD Products
The CBD is largely unregulated. We wish this wasn't the case because it allows companies to sell inferior, unsafe products. One reason we started making CBD products with our award-winning hemp was that we knew we could guarantee customers that they were getting an all-natural, healthy CBD product.
Many companies don't add as much CBD to their products as they claim.
For example, a study published in the prestigious Journal of the American Medical Association found some shocking results—69% of the 84 CBD products tested did not meet label claims. ‍And nearly one-half contained less CBD than labeled.
An investigation by NBC 4 in New York found less than half of the samples they had tested contained the stated amount of CBD. Some samples contained NO CBD. Others had dangerous levels of lead.
Mission Farms CBD is 100% Pure
CBD Products You Can Trust
At Mission Farms CBD we start with our top-quality, therapeutic-grade hemp. We farm it organically and extract the CBD using the safest methods.
We then use independent labs to test every product to affirm that the full amount of CBD is in the product. We also test for pesticides, heavy metals, solvents, and mold three different times — as hemp, as an extract, and as a finished product.
We are committed to providing our families, friends, and customers with the healthiest CBD products.
Limited Quantities of Our Travel Size Gel Available
This is the first time we have made a Travel Size Gel and offered it to customers for FREE. 
We only made 1200 samples. When we run out they are gone.
We hope these offer an opportunity for people to try our amazing Relieve CBD Gel who would be hesitant to get a full-size bottle for $39. 
We are excited to help you try CBD and experience the benefits of this all-natural ingredient.
Here's to staying active and feeling great, all-naturally!
Get your FREE Joint and Muscle Gel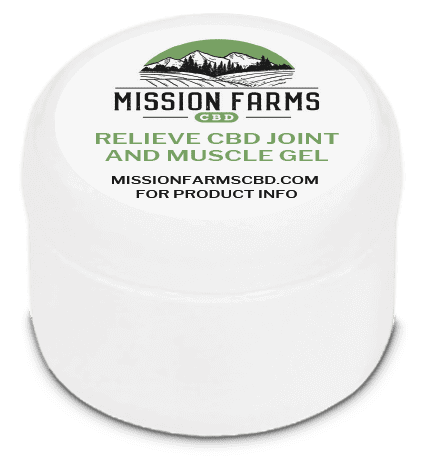 Travel Size Joint and Muscle Gel
40mg CBD, .5oz
– Ease Discomfort
– Reduce Inflammation
– Recover Faster