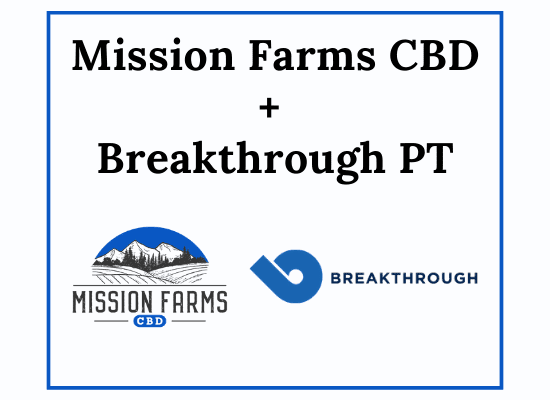 WELCOME, BREAKTHROUGH PT CLIENTS!
Hello, Physical Therapists!
We are delighted to be working with Breakthrough PT Marketing to offer you our all-natural Mission Farms CBD products!
Our hand-crafted CBD products come from our organically farmed hemp in Central Oregon where we create farm-to-family CBD solutions that are pharma-free and non-addictive.
Read through the information below about how you can make money selling Mission Farms CBD in your PT practice. We believe this is an opportunity to greatly increase the revenue and margin in your clinic. Both you and your customers will feel good!
MISSION FARMS CBD OFFERS THE HIGHEST MARGIN PER SQUARE FOOT IN YOUR PT CLINIC!
Buy at Wholesale Prices:   You can enroll in our Wholesale Program where you will receive roughly 50% off MSRP on all of our products. This is a great option if you want to carry inventory in your PT Clinic and want to have it on hand for your visiting patients.
You order online and we ship the next business day. It's that easy. We have a $250 minimum order size, which is roughly 8-10 products. To begin the enrollment process, please fill out our Wholesale Enrollment Form.  You will receive a custom log-in, which allows you to shop our site and see wholesale pricing. Re-orders are simple, and our Wholesale Manager Robin will be available to help with any questions. Contact her at [email protected] with any questions.
Listen to our CEO Ben Joyce talk about why our CBD products from Mission Farms are perfect for physical therapy!
Our best-selling product is our CBD Joint and Muscle Gel, which is designed to relieve discomfort and reduce inflammation. It gets 4.9-star reviews and is perfect for patients recovering from injury or trying to eliminate soreness and aches. This is an ideal product for you to promote in your clinic.
Our goal is to help make your more successful in your Physical Therapy practice. We have confidence that our all-natural line of CBD products will make your physical therapy practice more profitable, and will make your clients happier. We look forward to partnering with you at Mission Farms CBD!
Our best-selling products for Physical Therapy:
Relieve CBD Joint and Muscle Gel
Get quick relief from icy-hot menthol and aloe combined with powerful CBD. Ideal for sore joints and muscles!
Our all-natural CBD Oils address sleep, stress, and discomfort, as well as give an overall wellness boost.
Our Relieve CBD Cream is made with luxurious goat milk and is ultra hydrating while reducing discomfort. 

This product is not for use by or sale to persons under the age of 18. The statements on this website have not been evaluated by the Food and Drug Administration.
These products are not intended to diagnose, treat, cure, or prevent any disease. The claims are based on the personal experiences of our customers.